Contact us
For more information, please contact our program coordinator.
How to apply
ERAS: 1461114212
NRMP: 2232146F0
Welcome from our Program Director
Welcome to the HCA Florida Aventura Hospital two-year clinical fellowship program accredited by the ACGME in April 2018.
Aventura Hospital is a 407-bed award-winning acute care community teaching hospital and Level II Trauma Center. Our program offers a robust learning experience in a friendly environment where the patient population is diverse.
Program overview
Our HCA Florida Aventura Hospital Infectious Disease Fellowship began in July 2018.
With the objective of developing experts in the field, the program offers clinical microbiology as well as outpatient rotations, educational experiences and scholarly/research opportunities.
Fellows will have opportunities throughout the year to teach medical students, interns, residents and interdisciplinary team members. This training program prepares physicians to competently work in the field of infectious diseases.
We welcome applicants from a variety of medical backgrounds who have successfully completed or are on track to complete their residency in good academic standing.
Individuals who wish to apply for a fellowship should submit an application through ERAS.
Curriculum and rotation schedule
Our expertly crafted programs are designed to provide resident and fellow physicians with all the experiences and training necessary for professional success.
Our Program Director and staff
Our team is comprised of skilled experts with deep experience and knowledge from which residents and fellows can benefit.
Daniel Kaswan, MD
Program Director
---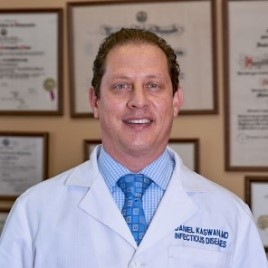 Program details
Benefits
Each resident will receive financial support and benefits to begin on the effective date of the contract agreement. These benefits include:
Annual salary
Health, dental and vision insurance
Short-term and long-term disability, life insurance, flexible spending accounts, CorePlus voluntary benefits, HCA 401(k) and stock purchase plan
Medical Training License
Conference attendance, as per program policy
20 days paid time off (PTO) per academic year
Paid BLS/ACLS/PALS/ATLS, as required by the program
Two (2) lab coats per academic year
HCA Healthcare-issued device (cell phone/laptop)
Access to free meals in the hospital cafeteria
Free parking
Library on site
Another benefit is access to the Employee Assistance Program (EAP). The EAP is recognized for employees and their families that experience personal problems that can affect their job performance. This service is accessible 24/7 through Beacon Health Options. Some of the great benefits from Beacon are counseling services, legal services, financial services and substance abuse services.
Benefits and financial support questions:
Each resident should refer to his or her Graduate Medical Education Training Agreement for further details regarding financial support and benefits.
Any questions should be directed to the Program Coordinator and/or HCA Florida Aventura Hospital Human Resources department.
---
Wellness
Wellness has a large emphasis and plays a central role in the culture of our program. We believe in a strong focus on mental and physical well-being to avoid burnout and allow the fellows an opportunity to bond outside of clinical duties. We have a dedicated budget for events throughout the year coordinated by our wellness committee.
---
Research
HCA Healthcare provides an extensive database of patient information which gives residents a plethora of opportunities for original data research. Our residents also have access to HCA funding specifically designated to promote research and scholarly activity, including conferences, article publications, original data research.
Mission statement
The HCA Florida Aventura Hospital Infectious Disease Fellowship program's mission is to develop the next generation of physicians and physician leaders.
As a part of HCA Healthcare, we are driven by a single mission: Above all else, we are committed to the care and improvement of human life.
This program is designed to offer fellows a rewarding, educational environment where fellows are provided individualized learning opportunities by faculty and staff who support and sustain one another throughout quality care delivery. Our faculty are committed to ensuring the fellows' clinical experience and educational needs are fulfilled while expanding fellows' perspectives to be inclusive of cultures, values and ideals.