Contact Us
For more information, please contact our program coordinator.
How to Apply
ERAS: 0401100206
NRMP: 2232040A0
Welcome from our team
Thank you for your interest in the Anesthesiology Residency Program at HCA Florida Kendall Hospital! Our program is a community-based, university-affiliated program.
Mission Statement
The HCA Florida Kendall Hospital Anesthesiology Residency program's mission is to develop the next generation of physicians and physician leaders.
As a part of HCA Healthcare, we are driven by a single mission: Above all else, we are committed to the care and improvement of human life.
This program is designed to offer residents a rewarding, educational environment where residents are provided individualized learning opportunities by faculty and staff who support and sustain one another throughout quality care delivery. Our faculty are committed to ensuring the residents' clinical experience and educational needs are fulfilled while expanding residents' perspectives to be inclusive of cultures, values and ideals.
Program Overview
Program Highlights
The Anesthesiology Residency Program at HCA Healthcare Kendall Hospital, formerly Kendall Regional Medical Center, was established in September 2015. We are an ACGME accredited community-based university affiliated program.
Our program features over 40 faculty members and 5 clinical sites to provide excellent clinical and educational experiences. Among our faculty are Anesthesiologists with a variety of expertise, fellowship training, and interests that trained at some of the top institutions in the country such as Yale, Mass General, Beth Israel Deaconess Medical Center, Emory, Vanderbilt, Mount Sinai Hospital in NY, and Johns Hopkins University. Additionally, our faculty includes three surgeons with subspecialty training in Critical Care and Trauma and a PhD research director.
Training
We offer training in a wide array of experiences across our 6 clinical sites:
HCA Healthcare Kendall Hospital
HCA Healthcare Aventura Hospital
Miami Veterans Affairs Medical Center
Wolfson's Children's Hospital
Nemours Children's Specialty Care
Largo Medical Center
Collectively our sites feature a level one adult and pediatric trauma center and burn center, two stand-alone pediatric hospitals, and a surgical ICU under the medical direction of anesthesiologists. Our sites will provide training and education in every area such as trauma, minimally invasive cardiac surgery, robotic surgery, regional anesthesia, critical care, pediatric surgical subspecialties, and pain management.
Program Details
Conference Schedule
Get to Know the Team
---
Nicholas Nedeff, MD, CHSE
Program Director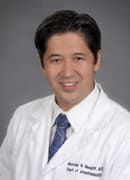 ---
Kendall Regional Medical Center
Javier Lopez, MD
Raul Cruz, MD
Juan Ampuero, MD, MBA
Lisa Chan, MD
Sudhir Choudhary, MD
Sofia Fischer, MD
Nelson Guevara, MD
Isabelle Jean-Pierre, MD
Richard Juda, MD
Panayota Liopyris-Tsarouhas, MD
Leonel Martinez, MD
Mark McKenney, MD, MBA
Glenn Miller, MD
Abel Murillo, MD
Marcela Ramirez, MD
David Riesco, MD
Carlos Rodriguez, MD
Maria Sarach-Kozlowska, MD
---
Aventura Hospital and Medical Center
Michael Decker, MD
Yessica Cabrera, MD, MPH
Edward Frankowski, DO
Christian Gonzalez, MD
Javier Kaplan, MD
Ana Maria Michelena, MD
Leopoldo Rodriguez, MD
Jordan Taylor, MD
Ravindera Uberoi, MD
---
Palms West Hospital and Children's Hospital at Palms West
Sarah Rebstock, MD
Brian Miller, MD, MBA
Roger Duncan, MD
Andrew Stern, MD
---
Veterans Affairs Medical Center Faculty
Sean Quinn, MD
Ricardo Martinez-Ruiz, MD
Christina Matadial, MD
Armando Ariza, MD
Relin Yang, MD, MPH
Curriculum and Rotation Schedule
Our expertly crafted programs are designed to provide resident physicians with all the experiences and training necessary for professional success.
Salary & Benefits
Salary
| Year | Salary |
| --- | --- |
| PGY-1 | $58,677 |
| PGY-2 | $60,445 |
| PGY-3 | $62,254 |
| PGY-4 | $64,438 |
Benefits
Health and disability insurance on the first day of employment
Educational allowance as per GME policy
Conference attendance as per program policy
Paid BLS/ACLS/PALS/ATLS as required by the program
Meals provided while working in the clinical environment
Lab jackets
Other items based on specific program need
Follow Us!