Internal Medicine Residency Program at HCA Florida Oak Hill Hospital
Learn more about our Internal Medicine Residency Program at HCA Florida Oak Hill Hospital in Brooksville, Florida.
---
Contact us
For more information, please contact our program coordinator.
Welcome from our Program Director
Thank you for your interest in our Internal Medicine Residency Program!
Program overview
We are proud of our hospital's achievements, the quality of care and the many important services and educational programs we provide to the people of our community. It is our hope that you will join our exceptional team of medical professionals here at HCA Florida Oak Hill Hospital. We look forward to working with you in your endeavors to achieve your medical career goals.
Three-year, full accredited internal medicine residency program
Dedicated to providing the highest quality graduate medical education
Clinical teaching faculty and staff eager to impart their knowledge and experience, including doctors who use a "hands-on" approach to teaching and learning in our Internal Medicine Residency Program
Research interests are encouraged, supported and mandated at HCA Florida Oak Hill Hospital, as research is a critical component of graduate medical education.
Currently, residents are involved in retrospective studies, longitudinal quality improvement and patient safety projects.
Our goal:
"Teaching tomorrow's physicians today, in the art and science of medicine."
Curriculum and rotation schedule
Our expertly crafted programs are designed to provide resident and fellow physicians with all the experiences and training necessary for professional success.
Our program director and staff
Our team is comprised of skilled experts with deep experience and knowledge from which residents and fellows can benefit.
Salman Muddassir, MD - Program Director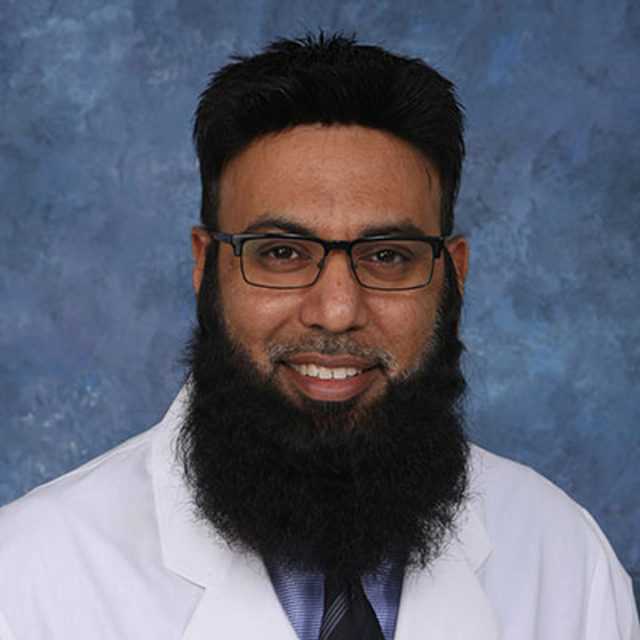 Mission statement
The HCA Florida Oak Hill Hospital Internal Medicine Residency program's mission is to develop the next generation of physicians and physician leaders.
As a part of HCA Healthcare, we are driven by a single mission: Above all else, we are committed to the care and improvement of human life.
This program is designed to offer residents a rewarding, educational environment where residents are provided individualized learning opportunities by faculty and staff who support and sustain one another throughout quality care delivery. Our faculty are committed to ensuring the residents' clinical experience and educational needs are fulfilled while expanding residents' perspectives to be inclusive of cultures, values and ideals.