Contact Us
For more information, please contact our program coordinator.
How to Apply
ERAS: 1411114293
NRMP: 1771141F0
Welcome from our team
Thank you for your interest in the HCA Florida Orange Park Hospital Cardiology Fellowship Program. Our 3-year fellowship began in 2018, offering didactics and clinical rotations with 13 board-certified cardiologists at three locations in our community: Orange Park Hospital, First Coast Cardiovascular Institute campuses in Fleming Island and Jacksonville, and the Mayo Clinic Jacksonville.
Mission Statement
The HCA Florida Orange Park Hospital Cardiovascular Disease Fellowship program's mission is to develop the next generation of physicians and physician leaders.
As a part of HCA Healthcare, we are driven by a single mission: Above all else, we are committed to the care and improvement of human life.
This program is designed to offer residents a rewarding, educational environment where residents are provided individualized learning opportunities by faculty and staff who support and sustain one another throughout quality care delivery. Our faculty are committed to ensuring the resident's clinical experience and educational needs are fulfilled while expanding residents' perspectives to be inclusive of cultures, values and ideals.
Program Overview
Our interdisciplinary approach to learning fosters excellent opportunities for professional growth, committed mentorship and clinical research. Alongside dedicated attending physicians and enthusiastic colleagues, fellows strive for excellence in their training and provide high-quality healthcare and community-oriented service in patient-centered environments.
HCA Florida Orange Park Hospital Cardiovascular Disease Fellowship Program
Learn more about our programs!
Check out our facilities, faculty and more using our online program guides.
Our Program Director and staff
Our team is comprised of skilled experts with deep experience and knowledge from which residents and fellows can benefit.
---
Andrea DeNeen, MD, FACC
Program Director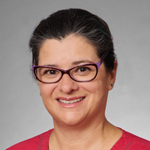 Program details
Curriculum and rotation schedule
Our program is structured as a twelve-month block rotating through the following core areas:
Cardiac catheterization lab
Continuity clinic
Critical care unit
Echocardiography
Electrophysiology
Inpatient Cardiology Service
Nuclear medicine
During the 2nd and 3rd year in fellowship, we have electives available which include extra months of the rotations listed above as well as:
Advanced nuclear imaging
Cardiac heart failure/transplant
Vascular
Research
Each rotation allows variable research time in order to facilitate the completion of scholarly activity and pursue specialized goals.
Salary
The following salaries are for the fiscal year 2023-2024 and may differ from future years' salaries.
PGY4: $64,438, salary and $950, on-call meals; total salary: $65,388
PGY5: $67,330, salary and $950, on-call meals; total salary: $68,280
PGY6: $70,336, salary and $950, on-call meals; total salary: $71,316
Benefits
The hospital provides a comprehensive list of personal benefit package options. The most current plan, enrollment and renewal information may be found on the hospital human resources benefits site. Benefits include, but are not limited to, the following:
Medical benefits, dental and vision
Short-term disability
Long-term disability
Life insurance
Flexible spending accounts
CorePlus voluntary benefits
HCA 401(k)
Employee assistance program (EAP)
Employee stock purchase plan
The hospital will provide worker's compensation insurance consistent with the hospital's benefits program.
Professional memberships
Conference and travel expense
Cell phone
Laptop/iPad
Other board prep and educational expense
Vacation sick or holiday
Each resident and fellow receives three weeks annual paid leave for vacation, sick, holiday or other time away from work. Vacation requests must occur prior to the beginning of each academic year. The three-week annual leave does not carry over to the next academic year and residents and fellows will not be paid out for time unused.