Contact Us
For more information, please contact our program coordinator.
Welcome from our Program Director
Welcome to the Internal Medicine Residency Program at HCA Florida Sarasota Doctors Hospital!
Our hospital is an all-private room facility with award-winning, patient-centered care that has served the residents of Sarasota, Manatee, north Charlotte, and Desoto counties since 1967. We have been graded "A" in patient safety by the LeapFrog Group 15 times in a row and have received the Guardian of Excellence Award and the Pinnacle of Excellence Award from Press Ganey.
We are ACGME approved for 12 categorical residents per year and have a dedicated and stellar faculty in all Internal Medicine subspecialties with rotations through Cardiology, Critical Care, Gastroenterology, Geriatrics, Addiction Medicine, Endocrinology, Hematology/Oncology, Hospice and Palliative Care, Infectious Diseases, Nephrology, Neurology, Pulmonology, and Rheumatology. You will also have opportunities for electives in Allergy/Immunology, Dermatology, ENT, Office Gynecology, Ophthalmology, Physical therapy, Rehabilitation, Psychiatry, and Radiology.
Mission Statement
The HCA Florida Healthcare/ USF Morsani College of Medicine GME: Sarasota Doctors Hospital Internal Medicine Residency Program is dedicated to training residents who are devoted to providing high-quality, evidence-based, patient-centered care to the residents and multitude of visitors in the greater Sarasota and Manatee County areas. There has been exponential growth in this area recently, especially along the I-75 corridor where HCA Florida Sarasota Doctors Hospital and its associated free-standing emergency department are located. This has led to a need for an increased number of well-trained primary care providers.
The healthcare family at HCA Florida Sarasota Doctors Hospital is dedicated to training and retaining talented medical professionals in the community. The curriculum is designed to empower the residents to be confident and competent as autonomous internal medicine physicians who act as staunch advocates for their patients, enhance health and wellness in the community, and develop collaborative relationships with colleagues in order to diagnose and care for patients with both common and complex illnesses. HCA Florida Sarasota Doctors Hospital has served the community since 1967 and is known for providing compassionate and personalized care to every patient.
The more than 700 caregivers, 100 volunteers, and 400 physicians with privileges are dedicated to cultivating internal medicine physicians who exemplify the HCA Healthcare mission, "Above all else, we are committed to the care and improvement of human life", during every interaction with patients, families, and all members of the healthcare community with whom they work.
Program Overview
Our residency program is carefully structured with you in mind. We follow a 4+1 schedule for the outpatient continuity clinic experience, ensuring dedicated time for supervised instruction and learning without distractions from other core clinical rotations. You will follow your panel of patients at the same site throughout your three years of training, allowing you to begin your primary care practice if you choose. Our Subspecialty Education Coordinators will guide you in charting your professional course. You will be assisted with applications into fellowship programs, both within and outside the HCA system, should you decide to further your training. Our program employs a host of educational experiences, including teaching rounds, dedicated weekly didactics, Grand Rounds, M&M/Journal Club, and Sim lab, with vast opportunities for research in collaboration with other residents and fellows in HCA GME programs in the West Florida region and nationwide. Additional HCA resources include a massive digital library, a dedicated research division, USMLE Step 3/COMLEX reimbursement, and Board prep resources such as MKSAP, UWORLD, etc.
Your training will be in beautiful and sunny Sarasota, Florida, home to the award-winning Siesta Key Beach and a plethora of world-renowned fine arts institutions, such as the Van Wezel Performing Arts Theater and Ringling Museum. You can also enjoy the Mote Marine Aquarium, several bike trails, Myakka State Park (for nature lovers), and Nathan Benderson Park (a 600-acre park with a 400-acre lake for aquatic sports programs and international competitions).
We are honored that you are considering us for your training needs. Our team of healthcare professionals is dedicated to providing you with a pleasant and supportive learning environment that will help you build a strong foundation for your future professional practice. We are committed to working with you as a team to ensure you receive the best possible training experience.
Get to Know the Team
Michael Schandorf-Lartey, MD, MMM, FACP, SFHM
Program Director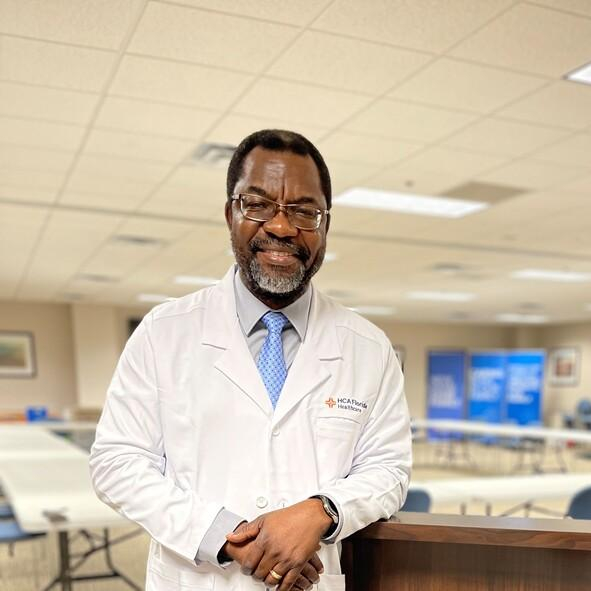 Curriculum and Rotation Schedule
Our expertly crafted programs are designed to provide resident physicians with all the experiences and training necessary for professional success.
Salary & Benefits
Salary
| AY 23-24 | Annual Salary | On-Call Meals | Total |
| --- | --- | --- | --- |
| PGY1 | 58,677 | 950 | 59,627 |
| PGY2 | 60,445 | 950 | 61,395 |
| PGY3 | 62,254 | 950 | 63,204 |
Faculty
Stuart Greenberg, APD
Samuel Amen, Addiction Medicine
Ronald Andari, GI
Richard Aranibar, Pulmonary Critical Care
Iryna Chyshkevych, Hospitalist
Ryan Dunn, Pulmonary Critical Care
Ahmed Farooq, Infectious Disease
Nicholas Fusco, Emergency Medicine
James Gutierrez, Hospitalist
Sana Khan, Hospitalist/Core Faculty
Yamil Kouri, Hematology/Oncology
Eduardo Lazaro, Hospitalist
Sampath Manickam, Rheumatology
Timothy Mena lbrahim, Emergency Medicine
Brett Milford, Cardiology
Janine Mylett, Pulmonary Critical Care/Simulation Lab Director
Donald Negroski, Neurology
Sabry Omar, Cardiology
Bhavin Patel, Nephrology
Jesus Perez, Endocrinology
Soordal Prakash, Geriatrics
Neville Sarkari, Hospice & Pallative Care
Benefits
Program budgets include the following additional benefits:
Lab Coats (2)
Cell Phone/Laptop
Step/COMLEX 3 Reimbursement
Professional Memberships
Conference and Travel Expense
Board Prep resources such as MKSAP, UWORLD, etc.
$950 On-Call Meal stipend (Paid in two - $475 installments).

Orientation and 1st On-Call Meal stipend are paid within 90-days of start date.
2nd On-Call Meal stipend paid in January.

An additional meal allowance of $300 per month is added to ID Badge to be used at hospital Cafeteria only.
Current Salary of PGY1
20 days of PTO – Paid Time Off (covers vacation, sick , holiday or other time away from work) within an academic year
Free Parking at HCA Florida Sarasota Doctors Hospital
Residents are eligible for Paid Family leave 6 week leave paid at 100% per ACGME standard