How to apply
ERAS: 4401100449
NRMP: 2232440C0
Welcome from our Program Director
Hello, Everyone!
Under the partnership of HCA Florida Northwest Hospital and HCA Florida Westside Hospital, the General Surgery Residency is an AtME-accredited, five-year training program with a mission to provide our patients with high-quality care while training the next generation of surgeons that are advocates for their patients, communities, colleagues and profession in addition to being clinically excellent physician leaders.
Program overview
The East Florida Consortium's General Surgery Residency Program is a community-based program under an HCA Healthcare partnership between HCA Florida Westside Hospital and HCA Florida Northwest Hospital.
Our program aims to select the best potential trainees and provide them with a comprehensive learning experience that will afford the opportunity of becoming pioneers in surgery. The majority of the clinical and operative experiences will take place at both facilities. With such a diverse patient population, our surgical trainees will gain the knowledge, experience and exposure to perform at the highest level as skilled surgeons.
Our residents will also have training opportunities to rotate at other HCA Florida Healthcare facilities such as HCA Florida Kendall Hospital, HCA Florida Largo Hospital and HCA Florida Palms West Hospital.
Curriculum and rotation schedule
Our expertly crafted programs are designed to provide resident physicians with all the experiences and training necessary for professional success.
Our Program Director and staff
Get to know the team
Shaikh Hai, MD
Program Director
---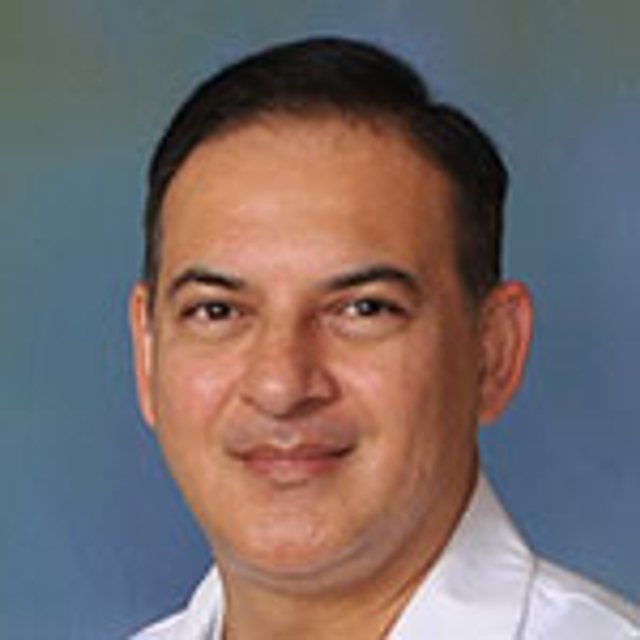 Program details
Training Positions
East Florida Consortium's General Surgery Residency Program is accredited by the Accreditation Council for Graduate Medical Education (ACGME). Our program is a five-year training program that offers four categorical positions each academic year.
Training Year: Positions
PGY1: 4
PGY2: 4
PGY3: 4
PGY4: 4
PGY5: 4
After satisfactory completion of our five-year training program, trainees are eligible to take the board exam with the American Board of Surgery.
Educational resources
SCORE Curriculum
FLS & FES Curriculum
Surgical Skills and Simulation Lab Curriculum
Library and database access through affiliated institutions
Sophisticated data repository of over 30 million patient encounters each year
Evaluations
Our program monitors and tracks each of the following areas:
Resident Performance
Post-Rotation Evaluation by a Resident
Faculty Teaching Skills
Faculty Development
Graduate Performance
Program Quality
Feedback is very important and will be provided to each resident so that they are aware of their progression throughout the training experience.
Conference Schedule
The East Florida Consortium's General Surgery Residency Program is committed to providing an enriching education and clinical curriculum to prepare general surgery residents in becoming outstanding clinicians.
The program is designed to expose residents to a variety of experiences through training while ensuring that they develop the appropriate clinical skills and knowledge to practice General Surgery.
The program is dedicated to educating residents in providing quality, relationship-based care through collaboration, compassion, integrity, safety and accountability.
Educational activities schedule
Weekly Conference Didactics
Didactics: Thursdays 2:00pm - 5:00pm (mandatory attendance as free from clinical duties)

Mortality and morbidity/interesting case discussion
SCORE sessions/TWIS basic and clinical science lecture
SCORE/SESAP/TRULEARN q-bank (ABSITE REVIEW)
HCA recorded educational surgery lectures (if time permits 30 min)

Daily patient rounding with attendings/bedside case presentations
Weekly mid-day bedside teaching rounds with PD/APD (Residents and Med Students)
Quarterly clinical skills simulation training/clinical scenario sessions/ACS - fundamentals of surgery course
Monthly journal club (typically last thursday of the month 5:00pm - 6:00pm)
Monthly surgery grand rounds (typically second thursday of the month 5:00pm - 6:00pm)
Bimonthly tumor board (at WRMC 1st and 3rd friday of the month 7:00am - 8:00am)
Monthly tumor board (at NWMC once a month 3rd thursday 7:30am-8:30am)
Quarterly research meeting with research director
Quarterly mentorship meetings between residents/faculty mentors
ATLS/ACLS/PALS/FES/FLS/Formal robotics curriculum training sessions with certification
Quarterly ABS mock oral examinations prep for PGY 4 & 5 residents
HCA Grand round
Our program offers exposure to general and specialty surgical practices in academic and private settings. We have incorporated training in specific areas such as Burn, Plastics, Trauma and Surgical Critical Care. Other learning activities include ABSITE Review and Mass Casualty Drills and Disaster Management Training.
Salary
Residents are paid bi-weekly. The salary schedules are as follows:
PGY1: $58,677
PGY2: $60,455
PGY3: $62,254
PGY4: $64,438
PGY5: $67,330
PGY6: $70,366
PGY7: $73,882
These amounts are subject to taxation. Residents new to the hospital will receive a $500 stipend to cover the time spent for onsite and online orientation activities. This amount is also subject to taxes.
Benefits
Residents will receive the following benefits:
Medical, vision and dental insurance as of the first day of employment
Life and Disability Insurance provided
Flexible spending accounts
CorePlus Benefits
HCA Healthcare 401K
Employee Assistance Program (EAP)
Employee Stock Purchase Plan
Annual paid leave to cover time off for vacation, sick, holiday and other time away from work as described in the HCA GME Resident Manual
Worker's Compensation Insurance consistent with the hospital's benefits program
Other Benefits
Residents' Lounge and Call Room
Paid certification courses for ACS/ATLS/BLS/PALS
Paid in-training examinations
Approved conference attendance and professional memberships as outlined by the Program Director
Meals provided while working in the clinical environment
Lab coats
Surgical Loupes
Mission statement
The HCA Florida Westside Hospital Surgery Residency program's mission is to develop the next generation of physicians and physician leaders.
As a part of HCA Healthcare, we are driven by a single mission: Above all else, we are committed to the care and improvement of human life.
This program is designed to offer residents a rewarding, educational environment where residents are provided individualized learning opportunities by faculty and staff who support and sustain one another throughout quality care delivery. Our faculty are committed to ensuring the residents' clinical experience and educational needs are fulfilled while expanding residents' perspectives to be inclusive of cultures, values and ideals.