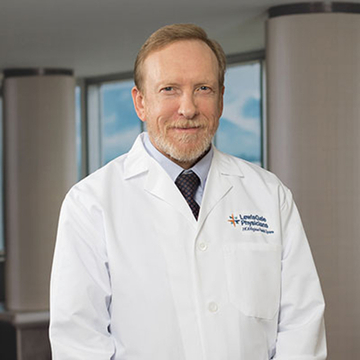 Our Psychiatry Residency Program, established in 2018, offers a four-year ACGME accredited program with eight or more competitive PGY-1 positions available each year. As Program Director, I bring experience in both undergraduate and graduate medical education along with an outstanding faculty specializing in clinical medicine and education.
The residency program is housed at the Pavilion, a 68 bed psychiatric care unit located adjacent to the main medical center. Residents work on established, well-staffed inpatient units with a wide variety of patients and pathologies. Residents also treat patients in a fully renovated outpatient clinic and a dedicated partial hospital and intensive outpatient program providing services for approximately 30 adults. Additional spaces within the building include offices, resident sleep rooms, a resident lounge and a large classroom with state-of-the-art audiovisual support. Residents will also work in the main hospital building and will have access to all HCA facilities on the campus.
An integral part of our program is the nearby Salem Veterans Affairs Medical Center which is a tertiary referral center within the VA system for mental health services and houses robust inpatient and outpatient settings with experienced faculty who are engaged in clinical training and research. Additional educational opportunities exist through training at nearby Catawba Hospital, a state hospital serving adults and geriatric patients, and outreach services throughout southwest Virginia.
Psychiatry residents will embrace and be embraced by a rich community-based program supported by a dedicated and knowledgeable faculty. As an added bonus, they will thrive within the beautiful region that boasts a vibrant, diverse local culture, friendly atmosphere, and award winning public school systems. Get acquainted with our exciting program, the exceptional people, and all that living and working in Virginia's Blue Ridge have to offer.
Brian E. Wood, DO, DFAPA
Program Director