Contact us
For more information, please contact one of our program coordinators, Hillary Farchione (727) 992-6230; or Larissa Staudacher (727) 992-7163.
How to apply
ACGME ID: 1401100951
NRMP: 2137140C0
Welcome from our Program Director
Welcome to the Internal Medicine Residency Program at HCA Florida Bayonet Point Hospital!
Our residency offers a rewarding, educational environment where residents receive individualized learning opportunities to maximize their full potential as clinicians, educators and healthcare leaders.
Program overview
The Internal Medicine Residency Program is an ACGME accredited internal medicine residency program affiliated with the University of South Florida. Our training program is a cornerstone of the department of graduate medical education designed to train the next generation of physicians and physician leaders.
Our interdisciplinary approach to learning fosters excellent opportunities for professional growth, committed mentorship and clinical research. Alongside dedicated attending physicians and enthusiastic colleagues, residents strive for excellence in their training and provide high-quality healthcare in patient-centered environments and community-oriented service.
Curriculum and rotation schedule
Our expertly crafted programs are designed to provide resident and fellow physicians with all the experiences and training necessary for professional success.
Our Program Director and staff
Our team is comprised of skilled experts with deep experience and knowledge from which residents and fellows can benefit.
Shaival Thakore, MD
Program Director
Our core faculty
Michael Strobbe, DO - Associate Program Director
Marek Krystofiak, MD
---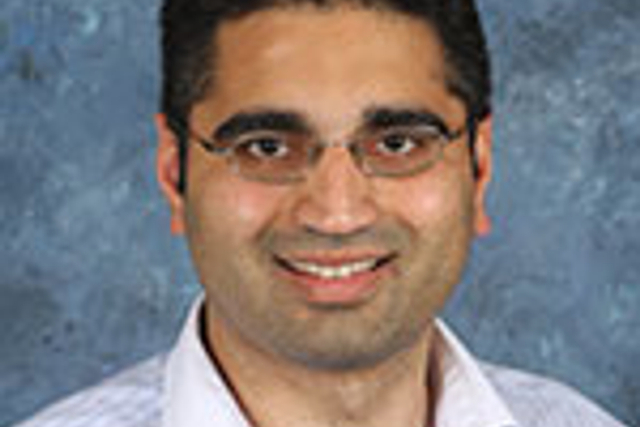 Program details
Didactic curriculum
Our didactic curriculum includes:
Morning report
Morning report is daily from 8:00am to 9:00am. It is led by one of our core faculty clinicians and consists of all residents meeting to review and discuss various aspects of medical knowledge and clinical practice. This is achieved through several different modalities, including:
Residents presenting a current case/patient
Simulated/virtual patient (through ACP program)
Practice Complex/USMLE-type questions
Review of radiologic imaging
Review of USPSTF guidelines and supporting literature.
Daily noon conference
Daily noon conferences are comprised of daily basic medicine didactics covering a variety of topics and specialties in internal medicine. All conferences are moderated by core faculty and specialists as applicable. In addition to the standard didactic schedule, sessions are also held on Morbidity & Mortality, Resident Association Meetings, and PGY3 lectures.
Emergency Medicine Lecture
Cardiology/EKG Conference
Rheumatology Conference
Endocrinology Conference
Journal Club
Residents choose a recently published article from a peer-reviewed medical journal and submit it for approval. They then critically examine and critique the publication and create a presentation to be given in front of residents, attending clinicians and administration.
Continuing Medical Education (CME)
The CME conference is a multidisciplinary grand rounds presented by attending clinicians on relevant/updated topics to medical staff and residents. It is held three Thursdays per month.
Faculty updates
Representatives from various departments of the healthcare team — including respiratory therapy, physical therapy, pharmacy and ITM — meet with the residents to discuss ways to improve patient management and EMR navigation.
Resident Association Meetings (RAM)
Residents participate in quarterly meetings as a group to discuss any questions/concerns, as well as upcoming requirements.
---
Salary and benefits information
Benefits packages
HCA Florida Bayonet Point Hospital offers employees the opportunity to enroll in a benefits package that best meets their needs.
The residents choose the medical, dental, long-term disability and life insurance plans that make the most sense for them and their eligible dependents. The cost of the benefits package that you select is deducted from your paycheck.
Salary
PGY1: $55,217
PGY2: $56,819
PGY3: $58,587
PGY4: $58,282
PGY5: $60,737
Salary includes a $950 annual stipend for on-call meals.
New residents also receive up to $500 for attending orientation.
Expenses covered by the hospital
Miscellaneous expenses covered by the hospital include:
Educational materials
Professional membership dues
Conference and travel expenses
Cell phone voice and data service
Annual expense for on call meals
$300 monthly cafeteria food allowance
Equipment
Electronic devices and equipment
The hospital will determine and make available, as needed, electronic devices for use consistent with the program's scope and needs. The assigned equipment is the property of the hospital and the resident or fellow agrees to use it only for purposes related to the program, not for personal purposes, including moonlighting assignments.
Prior to the end date of the program, the resident or fellow will return the equipment to the hospital in the condition in which it was provided to him/her with reasonable wear and tear. If required, the resident or fellow agrees to enter a separate agreement with the hospital regarding such equipment.
Licensure
The hospital shall pay for the resident or fellow's medical educational limited license. In cases where a full medical license is required by the medical board, the hospital shall pay for this license as well.
Required certification
The hospital shall provide certification courses and any related materials required by the hospital and/or the program — including but not limited to, basic life support (BLS) and advanced cardiac life support (ACLS) — pursuant to the program manual.
In-service examinations
The program shall pay for in-training examinations in the applicable specialty.
Uniforms
The hospital shall provide two laboratory coats per academic year (July 1 through June 30).
Other benefits
HCA provides a comprehensive list of personal benefits. The most current plans and enrollment and renewal information may be found at hcahranswers.com. Benefits include, but are not limited to:
Medical benefits, dental and vision
Short-term disability
Long-term disability
Life insurance
Flexible spending accounts
CorePlus voluntary benefits
HCA 401(k)
Employee Assistance Program (EAP)
Employee stock purchase plan
Paid time off (PTO)
Mission statement
The HCA Florida Bayonet Point Hospital Internal Medicine Residency Program's mission is to develop the next generation of physicians and physician leaders.
As a part of HCA Healthcare, we are driven by a single mission: Above all else, we are committed to the care and improvement of human life.
This program is designed to offer residents a rewarding, educational environment where residents are provided individualized learning opportunities by faculty and staff who support and sustain one another throughout quality care delivery. Our faculty are committed to ensuring the residents' clinical experience and educational needs are fulfilled while expanding residents' perspectives to be inclusive of cultures, values and ideals.