Contact us
For more information, please contact our program coordinator.
How to apply
ACGME ID: 2401100184
SF Match Program: 5609
Welcome from our Program Director
Welcome to the HCA Florida Bayonet Point Hospital Ophthalmology Residency Program in Hudson, Florida. The program's goal is to offer residents a rewarding, educational environment where ophthalmology residents receive individualized learning opportunities to maximize their full potential as clinicians, educators and healthcare leaders.
Program overview
Our ophthalmology residency is a three-year program accredited by the ACGME for a total of six residents per academic year, with a maximum of two residents in each PGY2, PGY3 and PGY4 level.
The program combines clinical and surgical training with strong didactics to provide the highest level of training in ophthalmology.
The Perich Eye Center is the program's surgical center
Rotations available in glaucoma, retina, pediatric ophthalmology and neuro-ophthalmology
Residents round on Trauma Call at HCA Florida Bayonet Point Hospital
15 days of vacation
Our Program Director and staff
Our team is comprised of skilled experts with deep experience and knowledge from which residents and fellows can benefit.
Larry Perich, DO
Program Director
Dr. Larry Perich is a board-certified Ophthalmologist and has practiced in the Tampa Bay area since 1983. His practice includes six medical eye center locations in the Greater Tampa Bay Area, including two well-appointed, state-of-the-art surgical facilities.
Dr. Perich has been involved in Graduate Medical Education for close to 20 years, since 2012.
Dr. Perich was born and raised in Warren, Ohio, and graduated Cum Laude from the University of Southern California with a Bachelor of Science degree in biochemistry. He earned his Doctor of Osteopathic Medicine degree from the Chicago College of Osteopathy. He completed a rotating internship at Suncoast Hospital in Largo, Florida, and his Ophthalmology Residency at Grand Rapids Osteopathic Hospital in Grand Rapids, Michigan.
Dr. Perich holds Professional Memberships in the American Academy of Ophthalmology, American Optometric Association (AOA), and the American Osteopathic Colleges of Ophthalmology and Otolaryngology (AOCOO).
Dr. Perich has received numerous awards, including a second-year award from Town and Country Medical Center for the highest volume outpatient surgery performed. Hillsborough County Osteopathic Medical Society Physician of the year. Recognized internationally as a leader in the field of excimer laser surgery, Dr. Perich is a notable expert in no-stitch cataract surgery and the development of new multi-focal intra ocular lens implants and cosmetic laser procedures.
Our core faculty
Dr. Larry Perich - Clinical Site Director
Dr. Tanya Perich
Kyle Linsey, DO
---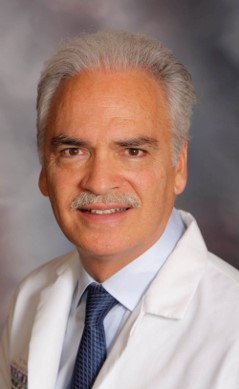 Mission statement
The HCA Florida Bayonet Point Hospital Ophthalmology Residency Program's mission is to develop the next generation of physicians and physician leaders.
As a part of HCA Healthcare, we are driven by a single mission: Above all else, we are committed to the care and improvement of human life.
This program is designed to offer residents a rewarding, educational environment where residents are provided individualized learning opportunities by faculty and staff who support and sustain one another throughout quality care delivery. Our faculty are committed to ensuring the residents' clinical experience and educational needs are fulfilled while expanding residents' perspectives to be inclusive of cultures, values and ideals.