Contact us
For more information, please contact our program coordinator.
How to apply
ERAS: 4001100322
NRMP: 2232400C0
Welcome from our Program Director
We are delighted to offer a solid, four-year categorical ACGME-accredited program with a variety of clinical and academic opportunities. The curriculum is designed to develop and prepare clinicians to become effective, safe psychiatrists.
Program overview
The program provides flexibility in curriculum focus to allow the accommodation of each trainee's individual learning needs in order to maximize achievement.
Established in 2018, our Psychiatry Residency Program is a four-year ACGME-accredited, hospital-based training program, with five competitive PGY-1 positions available each year.
The goal of our Psychiatry Residency Program is to prepare physicians with the knowledge, skills and attitude needed to provide optimal patient care in the field of psychiatry.
The emphasis is on the humane application of scientific knowledge and preparation of graduates for continuing lifelong self-directed learning; the cost-effective utilization of public resources; responsiveness to the needs of individuals and the community; and the highest standards of academic excellence and professional ethics.
Curriculum and rotation schedule
Our expertly crafted programs are designed to provide resident and fellow physicians with all the experiences and training necessary for professional success.
Our Program Director and staff
Our team is comprised of skilled experts with deep experience and knowledge from which residents and fellows can benefit.
Clara Alvarez Villalba, MD, FAPA
Director, Psychiatry Residency Program
---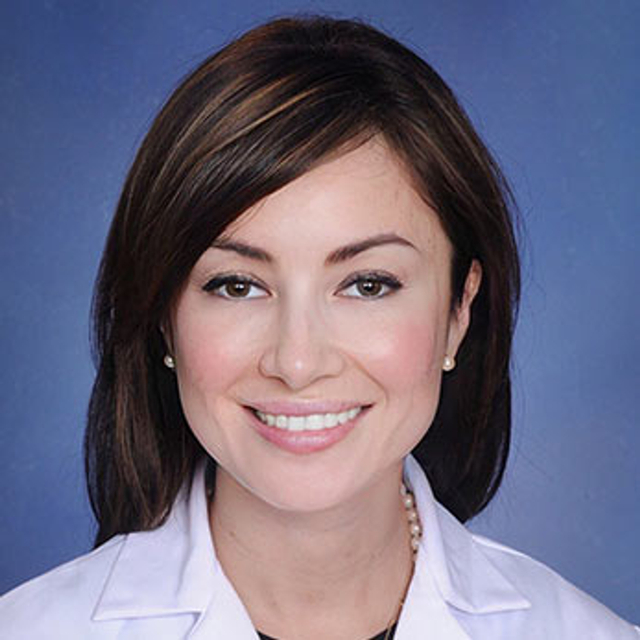 Program details
Teaching opportunities
Not only do we want our residents to train and become outstanding psychiatrists, but we also encourage them to become profound leaders and educators in the field. Clinically, a physician has the role of educating the patient, in such a manner that the patient understands clearly and accurately.
When we give back to the community, a physician also has the opportunity to share knowledge, educate peers and contribute to a continuously changing environment. We want our residents to acquire the skills and confidence necessary to become effective teachers and harness their potential to impact and shape the future of our field.
Here at HCA Florida Aventura Hospital, we provide teaching opportunities for senior Psychiatry residents to present material to faculty, junior residents, interns, and medical students.
Our program is currently affiliated with the Dr. Kiran C. Patel College of Osteopathic Medicine and the Dr. Kiran C. Patel College of Allopathic Medicine at Nova Southeastern University (NSU).
Psychiatry residents will be trained and helped to prepare lectures to these various groups, with the emphasis on tailoring information to their audience (e.g., medical peers, staff, patients and community groups) and to the setting (e.g., clinical outpatient, clinical inpatient, emergency environments and classroom).
We are also excited to explore the opportunity to participate in local and nationwide activities within HCA Healthcare GME Programs, and other events, such as APA MindGames and the TED-style talks sponsored by the National Neuroscience Curriculum Initiative.
---
Leadership tracks
Residents have the opportunity to further develop their skills in three main areas via the following residency training tracks:
Education track
Research track
Administrative track
---
Research
At HCA Florida Aventura Hospital, we are dedicated to high-quality research and scholarly activity. We offer a dynamic environment of scientific inquiry and provide the tools and training necessary to successfully engage in meaningful scholarly pursuits.
Our psychiatry residents have the opportunity to participate in scholarly activities and are expected to know appropriate research methodologies upon completion of the program. From orientation, residents are educated in research literacy and develop their skills in the process of critical appraisal. Residents work with their mentors, other residents, leadership and research staff for any assistance needed.
Residents have a didactic series that is dedicated to research and the program also holds weekly meetings for research activities.
Psychiatry residents are required to have:
One quality assurance/quality improvement (QA/QI) project, research project, or academic submission (e.g., abstract, case report) every year, and
One submitted, peer-reviewed manuscript (original research article, review article) before the completion of residency.
Our program has been very successful in producing several posters, retrospective studies, articles, book chapters, and presentations. Each year, the residents have been motivated and inspired to continue our tradition of scholarship. The milieu of the team is positive towards both self-study and collaborative work. Residents display great pleasure in learning from one another and mentoring juniors.
Some of our accomplishments include publications in journals such as Addiction, Cureus, HCA Healthcare Journal of Medicine, International Journal of Scientific Research and Miami Medicine; several posters being accepted for local and national conferences (APA, ASRA, NSU); and residents co-authoring several book chapters.
---
Local and national conferences
With prior approval, residents may attend several local and national academic conferences and annual meetings. Some of these include conferences hosted by:
Nova Southeastern University (NSU)
American Academy of Psychiatry and the Law (AAPL)
American Association of Directors of Psychiatric Residency Training (AADPRT)
American Medical Association (AMA)
American Psychiatric Association (APA)
Association for Academic Psychiatry (AAP)
Florida Psychiatric Society (FPS)
National Institute on Drug Abuse (NIDA)
National Institute of Mental Health (NIMH)
The American College of Psychiatrists (The College)
The Association of Medicine and Psychiatry (AMP)
---
Resident wellness
Our Psychiatry Residency program supports a healthy work-life balance and the well-being of our residents. Throughout the year, we follow a wellness curriculum that includes lectures, team-building activities, group therapy sessions, and wellness events surrounding the six key aspects of personal well-being:
Nutrition (e.g., healthful food options and scheduled time to eat)
Fitness
Emotional health
Preventive care (e.g., dental care and provisions to see a primary care physician)
Financial health (e.g., debt management, retirement planning and emergency fund support)
Mindset and behavior adaptability
As part of the Psychiatry and Behavioral Health team, we are faced with mental health issues and illnesses on a regular basis. In order to provide the best care and service to our patients, their families and our colleagues, we not only have to practice some of the wellness interventions that we preach, but we need to be in the right frame of mind and health.
Our program strives to develop a holistic, engaging wellness curriculum, that is open to feedback, recommendations, and driven in a direction that is ever-evolving and tailored to our current residents.
What works for some, may not work for all; however, sometimes we are not aware of different activities that may work for us and need to be open to learning from one another.
We invite our team to participate in program activities such as local walks/runs (5K run), group activities (bowling), wellness-focused exercises (meditation, mindfulness, group fitness classes, etc.), workshops (cultural competence, nutrition, etc.), food and art events, movie events and many more.
---
Benefits and salary
Compensation and stipend amounts are for the 2023–2024 academic year and are subject to change. Please contact the program for current and accurate information.
Annual resident compensation
PGY 1- $58,677
PGY 2- $60,445
PGY 3- $62,254
PGY 4- $64,438
Resident stipends
Hospital orientation: $500
---
Resident benefits
Each resident will receive financial support and benefits to begin on the effective date of the contract agreement. These benefits include:
Annual salary
Health, dental and vision insurance
Short-term and long-term disability, life insurance, flexible spending accounts, CorePlus voluntary benefits, HCA 401(k) and stock purchase plan
Medical Training License
In-service Examination in Psychiatry
Conference attendance, as per program policy
20 days paid time off (PTO) per academic year
Five days of educational leave per academic year
Paid BLS/ACLS/PALS/ATLS, as required by the program
Lab coats per academic year
HCA Healthcare-issued device (cell phone/laptop)
Access to free meals in the hospital cafeteria
Free parking
Library on site
Another benefit is access to the Employee Assistance Program (EAP). The EAP is recognized for employees and their families that experience personal problems that can affect their job performance. This service is accessible 24/7 through Beacon Health Options. Some of the great benefits from Beacon are counseling services, legal services, financial services and substance abuse services.
---
Benefits and financial support questions
Each resident should refer to their Graduate Medical Education Training Agreement for further details regarding financial support and benefits.
Any questions should be directed to the Program Coordinator and/or HCA Florida Aventura Hospital Human Resources department.
Mission statement
The HCA Florida Aventura Hospital Psychiatry Residency program's mission is to develop the next generation of physicians and physician leaders.
As a part of HCA Healthcare, we are driven by a single mission: Above all else, we are committed to the care and improvement of human life.
This program is designed to offer residents a rewarding, educational environment where residents are provided individualized learning opportunities by faculty and staff who support and sustain one another throughout quality care delivery. Our faculty are committed to ensuring the residents' clinical experience and educational needs are fulfilled while expanding residents' perspectives to be inclusive of cultures, values and ideals.