Contact Us
For more information, please contact our program coordinator.
How to Apply
ERAS: 1401100926
NRMP: 2232140C2
Welcome from our team
Thank you for your interest in the Internal Medicine Residency Program at HCA Florida Kendall Hospital.
Mission Statement
The HCA Florida Kendall Hospital Internal Medicine Residency program's mission is to develop the next generation of physicians and physician leaders.
As a part of HCA Healthcare, we are driven by a single mission: Above all else, we are committed to the care and improvement of human life.
This program is designed to offer residents a rewarding, educational environment where residents are provided individualized learning opportunities by faculty and staff who support and sustain one another throughout quality care delivery. Our faculty are committed to ensuring the residents' clinical experience and educational needs are fulfilled while expanding residents' perspectives to be inclusive of cultures, values and ideals.
Program Overview
Training & Education
The Internal Medicine Residency Program at HCA Florida Kendall Hospital is a community-based, university-affiliated program. Our program is sponsored by HCA Healthcare and affiliated with the University of South Florida.
Program Highlights
The Internal Medicine Residency Program is a medium-sized program, allowing us to get to know each of our residents on a personal level, provide a learning environment rich with camaraderie, and develop one-on-one relationships with colleagues, faculty, and mentors.
Unique 4 + 1 Schedule

4 weeks of rotation are followed by 1 week of dedicated ambulatory time. This schedule allows for the following:

A more rewarding and uninterrupted outpatient and inpatient experience.
Exposure to a "Group Practice" model as they work in cohorts of 5 and provide coverage for each others' continuity clinic patients when their PCP is not in clinic.
Ample continuity with residents' patient panel.

24/7 Hospitalist and Intensivist coverage

In–house attendings are available for assistance at all times, and residents are not required to meet the service needs of the hospital, which allows for a better educational experience.

No overnight call

We have a Night Float team that takes over from the day team in the evening and hands-off in the morning.

Great patient diversity and an exciting range of pathology which rivals any large inner-city hospital.
Training Positions
The Internal Medicine Residency Program is accredited by the Accreditation Council for Graduate Medical Education (ACGME).
Number of Positions by Year:
PGY1: 14 Categorical
PGY2: 14 Categorical
PGY3: 14 Categorical
Get to Know the Team
---
Jose A. Gascon, MD
Program Director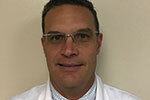 ---
Vanina Molinares Internal Medicine Associate Program Director
Robert Hernandez Infectious Disease Associate Program Director
Jose Barros, MD – Internal Medicine
Walter Ramirez, MD – Cardiovascular Disease/Interventional Cardiology
Silvia Bentancor, MD – Internal Medicine
Jose Gonzalez-Pantaleon, MD – Internal Medicine
Roberto Ruiz, MD – Internal Medicine
Idle Lee, MD – Internal Medicine, Critical Care
Curriculum and Rotation Schedule
Our expertly crafted programs are designed to provide resident physicians with all the experiences and training necessary for professional success.
Conference Schedule
Didactics
Morning Report
Noon Conference/ Teaching Rounds
Infectious Disease /Cardiology/Palliative/ Nephrology Lecture Series
Tumor Board
Journal Club
Medical Jeopardy/ Trivia
Board Review
Simulation Lab
Benefits Information
Health and disability insurance on first day of employment
Educational allowance as per GME policy
Conference attendance as per program policy
Paid BLS/ACLS/PALS/ATLS as required by the program
Meals provided while working in the clinical environment
Lab Coats
Other items based on specific program need
FAQ