Contact us
For more information, please contact our program coordinator.
Welcome from our Program Director
Now is an exciting time to be involved in the field of foot and ankle surgery. Advances in implant technology, orthobiologics and regenerative medicine have pushed our profession into the forefront of lower extremity care.
Program overview
HCA Florida Northwest Hospital is approved by the Council on Podiatric Medical Education for a Podiatric Medicine and Surgery Residency with a credential in Reconstructive Rearfoot/Ankle Surgery (PMSR/RRA) program with two entering positions and six residents total.
Our Program Director and staff
Our team is comprised of skilled experts with deep experience and knowledge from which residents and fellows can benefit.
Alan A. MacGill, DPM, FACFAS, CWS
Program Director
---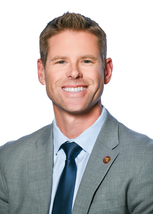 Curriculum and rotation schedule
Our expertly crafted programs are designed to provide resident physicians with all the experiences and training necessary for professional success.
---
Mission statement
The HCA Florida Northwest Hospital Podiatry Residency program's mission is to develop the next generation of physicians and physician leaders.
As a part of HCA Healthcare, we are driven by a single mission: Above all else, we are committed to the care and improvement of human life.
This program is designed to offer residents a rewarding, educational environment where residents are provided individualized learning opportunities by faculty and staff who support and sustain one another throughout quality care delivery. Our faculty are committed to ensuring the residents' clinical experience and educational needs are fulfilled while expanding residents' perspectives to be inclusive of cultures, values and ideals.
Salary & Benefits
PGY-1: $58,677
PGY-2: $60,455
PGY-3: $62,254