Contact us
For more information, please contact our program coordinator.
How to apply
ERAS: 2201100082
NRMP: 1587220C2
Welcome from our Program Director
The HCA Florida West Hospital Graduate Medical Education (GME) program is a unique blend of academic excellence in a community setting. We are part of the HCA Healthcare/University of Central Florida GME consortium located in beautiful northwest Florida.
Our small but in-depth obstetrics and gynecology residency is small by choice. We provide individual instruction that ensures a wide array of experience that allows residents to develop their expertise in obstetrics, gynecology and gynecologic subspecialties.
Program overview
Fully accredited by the Accreditation Council for Graduate Medical Education (ACGME)
Medical school affiliation: University of Central Florida (UCF) College of Medicine
Program type: community-based
Our interdisciplinary approach to learning fosters excellent opportunities for professional growth, committed mentorship and clinical research. Alongside dedicated attending physicians and enthusiastic colleagues, residents strive for excellence in their training and provide high-quality healthcare in patient-centered environments and community-oriented service.
Residents learn to develop their expertise and prepare for hospitalist or private practice careers in obstetrics, gynecology, urogynecology, family planning and maternal-fetal medicine.
Curriculum and rotation schedule
Our expertly crafted programs are designed to provide resident and fellow physicians with all the experiences and training necessary for professional success.
Our Program Director and staff
Our team is comprised of skilled experts with deep experience and knowledge from which residents and fellows can benefit.
Julie Zemaitis DeCesare, MD
Program Director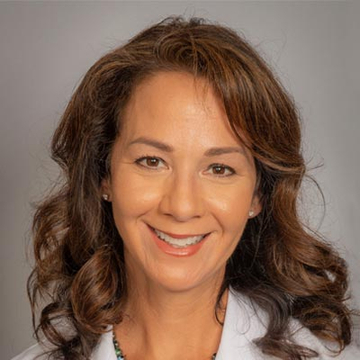 Program details
Grand rounds
Grand rounds with CME take place with internal and external speakers presenting relevant OB-related topics.
Morbidity and mortality conferences
The residents present cases with unexpected or unusual outcomes with the intent to avoid future adverse outcomes and improve the quality of patient care.
Resident case presentations
Core OBGYN topics will be assigned ahead of time with flipped classroom-style interactive learning. These sessions will be proctored by the faculty physicians.
ACOG publication reviews
Reviews such as committee opinions will be reviewed in a journal club fashion.
Simulation training
The simulation center is located on campus easily accessible to residents.
Journal club and mock orals
Journal club and mock orals will occur monthly. Journal clubs are an established academic exercise in the residency training curriculum to obtain critical appraisal skills, update knowledge on current literature and enhance proficiency in clinical practice.
Training and research
Our residency program is planning to have a state-of-the-art simulation lab to support growth in both obstetrical as well as gynecological skills. Our residency training includes formal education and simulation to supplement learning, as well as an environment for one-on-one education and training.
Curriculum and instruction regarding research theory and design are threaded into the core curriculum and research mentoring is provided. Residents will have the opportunity to design and implement a scholarly project with supportive faculty guiding and mentoring their pursuits. Data analysis and statistical support are provided at the HCA Healthcare/UCF consortium level and a research fellow will be dedicated to HCA Florida West Hospital to facilitate these projects.
In addition, we provide education on quality improvement science and support for scholarly projects in quality improvement. Each resident will have the opportunity to participate in a quality improvement project with the intention of improving clinical outcomes and care.
Salary
The following salaries are for the fiscal year 2021-2022 and may differ from future years' salaries.
PGY1: $59,627
PGY2: $61,395
PGY3: $63,204
PGY4: $65,388
Mission statement
The HCA Florida West Hospital Obstetrics and Gynecology Residency program's mission is to develop the next generation of physicians and physician leaders.
As a part of HCA Healthcare, we are driven by a single mission: Above all else, we are committed to the care and improvement of human life.
This program is designed to offer residents a rewarding, educational environment where residents are provided individualized learning opportunities by faculty and staff who support and sustain one another throughout quality care delivery. Our faculty are committed to ensuring the residents' clinical experience and educational needs are fulfilled while expanding residents' perspectives to be inclusive of cultures, values and ideals.
Frequently asked questions about our Obstetrics and Gynecology Residency
You can find answers to the most common questions about our program below.
Follow Us!