How to apply
---
ACGME#: 1101100001
NRMP#: 2232110C3
Welcome from our Program Director
It is a pleasure to welcome you to Emergency Medicine as the founding Program Director of our Residency at HCA Florida Westside Hospital . We could not be more excited about your interest in our program.
Our split facility model and membership in the East Florida Emergency Medicine Consortium will provide the resources for producing strong academic and clinical emergency medicine physicians prepared to be the leaders of the specialty in the future.
Program overview
Our newly ACGME-accredited Emergency Medicine program is a three-year training program offering residents a unique opportunity to learn using educational and practical experiences. HCA Florida Westside Hospital is a 250-bed full-service acute care hospital certified by the Florida Agency for Healthcare Administration (ACHA) as a Comprehensive Stroke Center that sees over 60,000 patients/year. Residents will also rotate through the Emergency Department of HCA Florida Northwest Hospital a 289-bed medical center that also sees over 60,000 patients/year. HCA Florida Northwest Hospital is known for its comprehensive cardiovascular, maternity, orthopedic and 24/7 emergency care, as well as its Level III NICU, Comprehensive Bariatric Center of Excellence, minimally-invasive and robotic-assisted surgery programs, and more.
When not in the Emergency Department, our residents will be exposed to four months of critical care training, dedicated time learning anesthesia, ultrasound and gaining five months of pediatric emergency medicine experience. The academic component of training is emphasized by a regular schedule of conferences with mandatory attendance. Progress in the program is monitored by evaluations for each rotation, as well as annual participation in the Emergency Medicine In-Service examination. This robust curriculum will allow our residents to be well trained physicians, ready for any practice environment upon graduating.
Program highlights:
Accepting thirteen new residents per year
100% Emergency medicine board-certified staff
Comprehensive Stroke Center at HCA Florida Westside Hospital
Dedicated in-depth ultrasound education with fellowship trained ultrasound director
Significant resources available for resident training and medical education
Diverse residency tracks, including EMS, international medicine, administration, Simulation, Ultrasound, Research and Wilderness
Diverse patient population
Curriculum and rotation schedule
Our expertly crafted programs are designed to provide resident physicians with all the experiences and training necessary for professional success.
Our Program Director and staff
Our team is comprised of skilled experts with deep experience and knowledge from which residents and fellows can benefit.
Matthew Slane, DO, FACEP, FAAEM
Program Director
---
Core Faculty
Nikkitta Georges, MD - Ultrasound Director
Theresa Greene, MD - Core
Colin Hagen, MD - Core
Craig Kushnir, DO - EMS Program Director
Jerome Wilkerson, MD - Core
Sara Zagroba, MD - Associate Program Director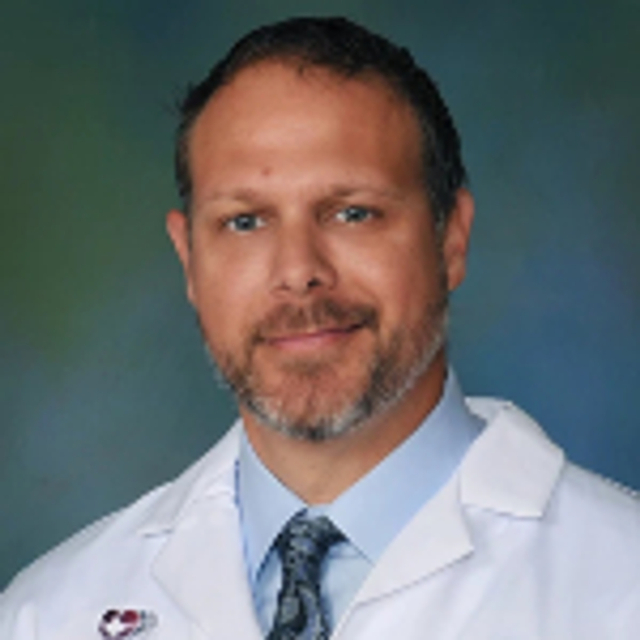 Salary & benefits information
Salary
PGY-1: $58,677
PGY-2: $60,455
PGY-3: $62,254
Benefits
Health and disability insurance on first day of employment
Four weeks of PTO
Educational allowance as per GME policy
Conference attendance as per program policy
Paid BLS/ACLS/PALS/ATLS as required by the program
Meals provided while working in the clinical environment
Lab jackets
Other items based on specific program need
Mission statement
The HCA Florida Westside Hospital Emergency Medicine Residency program's mission is to develop the next generation of physicians and physician leaders.
As a part of HCA Healthcare, we are driven by a single mission: Above all else, we are committed to the care and improvement of human life.
This program is designed to offer residents a rewarding, educational environment where residents are provided individualized learning opportunities by faculty and staff who support and sustain one another throughout quality care delivery. Our faculty are committed to ensuring the residents' clinical experience and educational needs are fulfilled while expanding residents' perspectives to be inclusive of cultures, values and ideals.
Frequently Asked Questions about our Emergency Medicine Residency Program
Find answers to the most common questions about our program!