Interactive program information
---
Program ACGME Number: 1402800917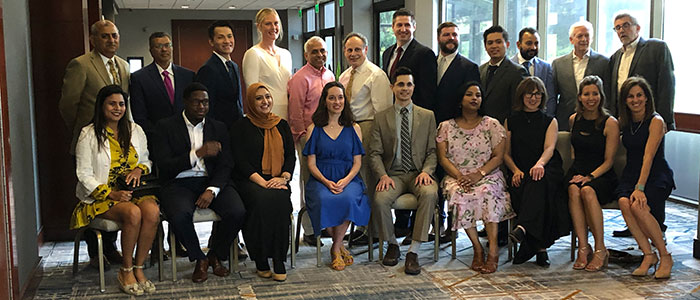 Thank you for your interest in our Graduate Medical Education program. At HCA Midwest Health you will receive outstanding training from our newly accredited residency programs. We are focused on providing the best quality education with engaged core faculty, and a combination of inpatient and outpatient experiences.
Our program is enhanced by a training environment that includes exposure to Overland Park Regional Medical Center, Menorah Medical Center, and Lee's Summit Medical Center. Our program is dedicated to meeting the needs of the patient population we serve. Our mission and values reflect our tradition of delivering high-quality, cost effective care for our patients and our communities.
Our goals for our Internal Medicine residency program:
Attract the finest medical students from diverse backgrounds.
Provide and individualize learning plans that allow residents to graduate and enter practice as competent internists.
Provide an educational environment that exemplifies excellence.
We are eagerly anticipating our 3rd graduating class from our residency program. We continue to enhance our program curriculum and rotation to be the very best. Our facilities continue to collaborate with leadership to evaluate and improve the environments so that our resident physicians to thrive.
We invite you to learn more about our program and look forward to meeting you.
Naresh Kodwani, MD
Director, Internal Medicine Residency Program
Contact us
---
HCA Internal Medicine Residency
12140 Nall Ave, #300, Overland Park, KS 66209
Phone: (913) 498-7004
Email: Carin Rowell-Boucher
Naresh Kodwani, MD – Program Director
Carin Rowell-Boucher – Residency Program Coordinator
Curriculum
Our internal medicine program provides comprehensive and balanced educational training to prepare residents to deliver modern, patient-centered primary care, hospital medicine, traditional internal medicine and board certification. For those physicians looking to pursue a specialty, our program serves as a strong foundation from which to grow.
One of the goals of our program is to impart the knowledge, skills and attitudes required to provide exceptional care in internal medicine. Residents will graduate with a clear understanding of the natural history of disease, the ability to select diagnostic tests appropriately and knowledge of best practices in providing cost-effective, evidence-based treatment.
Curriculum schedule and rotations
Sample schedule for PGY 1:
10 weeks of Continuity Clinic
16 weeks of In-patient Adult Medicine
4 weeks of Critical Care Medicine
4 weeks of Night Float
4 weeks of Nephrology
4 weeks of Rheumatology
4 weeks of Emergency Medicine
4 weeks of Cardiology
2 weeks of electives
Conferences, Didactics, and Simulations:
Didactics/ Conference (Weekly protected time for residents) are conducted and attended by faculty and residents. These include, but are not limited to:
Journal Club
Simulation training
Board Review
Morbidity & Mortality Conference (M&M)
Lecture Presentations and Grand Rounds
Wellness & Well-Being
Residents, fellows, and faculty will undergo an annual course in well-being to bring attention to burnout, depression, and substance abuse and the symptoms related to this.
The meaningfulness in the experience of being a physician - including protection of time with patients, minimization of non-physician obligations, and promotion of progressive autonomy - are areas a program will focus on to protect the resident and fellow working environment.
Access to behavioral health is available through the HCA Employee Assistance Program (EAP) on a 24-hour basis.
Residents have the opportunity, after consulting with their program director, to attend medical, mental health, and dental care appointments during work hours. It is also understood that there are circumstances in which residents may be unable to attend work, including but not limited to fatigue, illness and family emergencies without fear of negative consequences. The resident or fellow must still communicate timely with their program director if they will not be able to report to work.
Wellness committee
Annual Resident Retreat
Fatigue Mitigation
Adequate sleep facilities are provided to residents and fellows as needed and transportation for residents or fellows too fatigued to return home will be provided. Education regarding fatigue and the signs of fatigue will be provided for awareness and proper management.
During orientation, each resident and fellow will complete the Sleep, Alertness and Fatigue Education in Residency "SAFER" course.
Counseling & Support Services
Access to behavioral health is available through the HCA Employee Assistance Program (EAP) on a 24-hour basis.
Salary and benefits
PGY 1: 58,677
PGY 2: 60,445
PGY 3: 62,254