Contact us
For more information, please contact our program coordinator.
How to apply
ERAS: 0401100001
NRMP: 2232040C0
Welcome from our Program Director
Welcome and thank you for your interest in the HCA Florida Westside Hospital/Northwest Hospital Anesthesiology Residency Program. Our program is a newly accredited ACGME categorical anesthesiology residency. Our combined program offers training at Westside Hospital and Northwest Hospital, both located in the suburbs of Fort Lauderdale, FL. With the support of hospital leadership, we are looking forward to creating one of the best training programs for future anesthesiologists.
Program overview
Our program features over 30 faculty members and 5 clinical sites to provide excellent clinical and educational experiences. Our anesthesiologists have a variety of clinical expertise and specialized fellowship training from some of the top institutions in the country including Johns Hopkins, Mount Sinai, SUNY and Cleveland Clinic. Our faculty also includes surgeons, internists, emergency medicine physicians, OB/GYNs, and cardiologists that help provide a well-rounded complete educational experience over 4 years. Our goals are to provide our patients and community with high quality care and to build a residency training program that produces anesthesiologists that are clinically excellent, dedicated to quality care, active in their communities, and future leaders of our specialty.
We have a university affiliation that gives our community program a university feel with comparable resources for research and clinical experiences. The excellent clinical care, tremendous variety and complex case mix you will experience while in our training program will prepare you for independent practice as well as connect you to the largest healthcare organization in the United States. We are looking for applicants who are ready to share our commitment and 'set the tone of excellency' for the future of our program. We value your interest and look forward to meeting you soon.
East Florida Division Anesthesiology Residency
Curriculum and rotation schedule
Our expertly crafted programs are designed to provide resident physicians with all the experiences and training necessary for professional success.
Our Program Director and staff
Our team is comprised of skilled experts with deep experience and knowledge from which residents and fellows can benefit.
Imani K. Thornton, MD
Program Director
---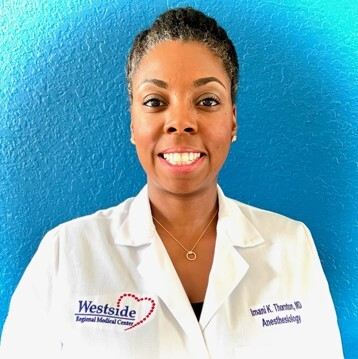 Program details
Salary
PGY-1: $58,677
PGY-2: $60,455
PGY-3: $62,254
PGY-4: $64,438
Benefits
Health and disability insurance on first day of employment
Educational allowance as per GME policy
Conference attendance as per program policy
Paid BLS/ACLS/PALS/ATLS as required by the program
Meals provided while working in the clinical environment
Lab jackets
Other items based on specific program need
Mission statement
The HCA Florida Westside Hospital Anesthesiology Residency Program's mission is to develop the next generation of physicians and physician leaders.
As a part of HCA Healthcare, we are driven by a single mission: Above all else, we are committed to the care and improvement of human life.
This program is designed to offer residents a rewarding, educational environment where residents are provided individualized learning opportunities by faculty and staff who support and sustain one another throughout quality care delivery. Our faculty are committed to ensuring the residents' clinical experience and educational needs are fulfilled while expanding residents' perspectives to be inclusive of cultures, values and ideals.
Questions?
For elective rotation information, please contact Lorena Estrada.