Contact Us
For more information about our program, please contact our program coordinator.
Welcome from Our Program Director
Welcome to the Alamo City, San Antonio, Texas and thank you for interest in our General Surgery residency program at Methodist Healthcare. We are honored to have the opportunity to train the next generation of medical professionals. Centrally located in one of the fastest growing states in America, awards us the ability to apply the training, skills and knowledge from our diverse faculty to our ever-growing patient population.
Program Overview
As the inaugural class of our newly accredited GME program, you will have the unique opportunity to participate in and contribute to the continued development of the residency program which will impact the training experience of all future residents. Methodist Healthcare is home to the largest multi-specialty robotic surgery programs in South Texas. As a leader in robotic surgery, Methodist Healthcare uses the most advanced robotic surgical platform on the market, offering our patients outstanding outcomes and superior care.
Methodist Hospital, along with th eprograms other participating sites within the system, has been named among the 2022 Fortune/Merative 100 Top Hospitals® and distinguished as one of the top teaching facilities in the country. Equipped with state-of-the-art resources and established teaching faculty, our residents will receive a robust operative experience and education. The clinical and learning environment extends to all our participating sites that are within walking distance of each other.
All rotations will incorporate protected time for residents to attend didactics, lectures, and conferences that will enhance their learning environment. Residents can expect to be an integral part of administrative decisions as it pertains to patient safety and quality improvement measures, hospital committee memberships and initiatives, and resident well-being.
It is with our dedicated leadership team of faculty, administrators and multidisciplinary staff that we strive to provide quality care to our growing community. We hope that you strongly consider being part of our GME family in San Antonio, Texas.
Get to Know the Team
Travis Hollowya, MD
Program Director
---
Core Faculty
Russell Woodard, MD - Associate Program Director
Maryam Elmi, MD - Core Faculty
Mark Cheek, MD - Core Faculty
Michael Keller, MD - Core Faculty
Alfredo Santillan-Gomez, MD - Core Faculty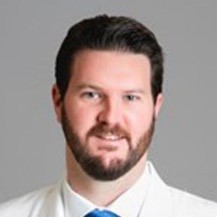 Curriculum & Rotation Schedule
Our expertly crafted programs are designed to provide resident physicians with all the experiences and training necessary for professional success.
Salary and benefits information
Salary

| Year | Salary | On-Call Meals | Total |
| --- | --- | --- | --- |
| PGY1 | $58,677 | $950 | $59,627 |
| PGY2 | $60,445 | $950 | $61,395 |
| PGY3 | $62,254 | $950 | $63,204 |
| PGY4 | $64,438 | $950 | $65,388 |
| PGY5 | $67,330 | $950 | $68,280 |
*These amounts are subject to taxation.
Resident salaries are determined on an annual basis. In addition to the amounts above, new residents received up to $1,000 for orientation.
Resident salaries are determined on an annual basis. In addition to the amounts above, new residents received up to $1,000 for orientation.
Professional liability insurance
Professional liability insurance coverage is provided during the training period within the scope of the program. Professional liability insurance coverage is provided for the purpose of program training and does not extend to moonlighting activities or other activities.
Other benefits
GME provided Laptop
GME provided Cell Phone
GME paid Residency Training License
GME provided DEA number
GME provided Lab coats
HCA Healthcare total rewards program offering flexible benefit options for residents and their dependents (costs may vary)
Health and Medical benefits available on day one
Wellness 24/7 support Employee Assistance Program
Paid Time Off
Frequently asked questions
A: At full complement the program will include 20 total residents. 4 at PGY1 level, 4 at PGY2 level, 4 at PGY3 level, 4 at PGY4 level, and 4 at PGY5 level.
Applications are accepted beginning September 15 for the following year's class. Applications are reviewed on an ongoing basis. Our program only accepts electronic applications through ERAS (the Electronic Residency Application Service). The required documents for an application are (at least three letters of recommendation, the Dean's letter/MSPE, formal transcripts, USMLE/COMLEX transcripts and a personal statement). All spots are filled through the NRMP (the Match).
All spots are filled through the NRMP (the Match).