Contact Us
For more information about our program, please contact Sherry Allison, program coordinator, at (843) 692-3497.
How to Apply
ERAS: 1204500669
NRMP: 1761120C0
Welcome Letter from our Program Director
We are delighted that you are interested in the Grand Strand Family Medicine Residency and we hope that you will take a serious look at our program! We are located in one of the South's great family destinations. The sandy beaches, mild climate and endless area attractions, as well as state-of-the-art medical facilities and welcoming medical community, make Myrtle Beach an attractive place to learn as well as play.
Read the full letter
Mission Statement
The Grand Stand Medical Center Family Medicine Residency Program's mission is to develop the next generation of physicians and physician leaders. As a part of HCA Healthcare, we are driven by a single mission: Above all else, we are committed to the care and improvement of human life.
This program is designed to offer residents a rewarding, educational environment where residents are provided individualized learning opportunities by faculty and staff who support and sustain one another throughout quality care delivery. Our faculty are committed to ensuring the residents' clinical experience and educational needs are fulfilled while expanding residents' perspectives to be inclusive of cultures, values, and ideals.
Program Overview
Affiliated with Grand Strand Medical Center, the Family Medicine Residency Program first opened its doors in 2017. As a three-year, fully ACGME accredited program, our goal is to train well-rounded, clinically competent family physicians who are capable of balancing the demands of medical practice with healthy personal lifestyles.
Primary care physicians are the foundation for quality healthcare, and family medicine provides services unique to any other medical specialty. Our emphasis on treating the entire family from birth to senescence gives patients unparalleled continuity of care. By this, the patient-physician relationship is strengthened. For this reason, our curriculum emphasizes a strong grounding in the full scope of family medicine while at the same time providing the flexibility for residents to focus on their own particular clinical interests and needs. Residents see continuity patients in a modern, spacious outpatient clinic which opened its doors in 2020 and is supervised by our excellent family medicine faculty.
Residents participate in case scenarios in our state-of-the-art simulation training lab. This allows residents to learn clinical skills and procedures in a safe, nonthreatening environment. Residents work in groups to treat common medical emergencies and practice procedures such as central line placement, difficult airway management, lumbar punctures, joint injections, and obstetric and gynecologic procedures.
We strive to be innovators in the training of Family Medicine residents. One such example is the opportunity that residents have to recognize, evaluate and manage children who have been sexually or physically abused. This may include the performance of forensic medical exams, in collaboration with the Children's Recovery Center, a local nonprofit Children's Advocacy Center dedicated to the protection of child victims.
Our program endeavors to foster physician empathy, enhance the patient-physician relationship, improve quality of care and patient satisfaction, and hopefully serve as the basis for lifelong self-reflection and physician wellness!
Get to Know the Team
J. Burton Banks, MD Program Director
---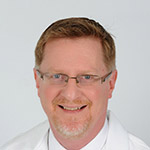 Curriculum & Rotation Schedule
Our expertly crafted programs are designed to provide resident physicians with all the experiences and training necessary for professional success.
Salary
| Year | Annual Salary |
| --- | --- |
| PGY-1 | $59,627 |
| PGY-2 | $61,395 |
| PGY-3 | $63,204 |
Conference Schedule
Family Medicine residents have the opportunity to enhance their educational experience through weekly half-day didactic sessions.
These sessions help fulfill the GME requirements for specialty training in family medicine and residents are expected to participate unless their clinical duties prevent them from doing so.
The curriculum includes a mixture of lectures, simulation, board review sessions, conferences and practice management sessions. All didactics are focused on core family medicine topics and are taught by faculty familiar with those topics.
Medical Grand Rounds are generally held one afternoon monthly, in conjunction with the Internal Medicine program. Faculty and guest speakers discuss a broad range of topics relevant to clinical practice and graduate medical education.
Morbidity and Mortality Improvement Conferences are held periodically as part of the didactic schedule. Residents present case-based discussions of cases from the inpatient or outpatient experience, with faculty assistance. Emphasis is placed on resident-driven quality improvement.
Journal Club Conferences take place once monthly. These conferences are presented by an assigned resident who chooses the article, distributes it prior to the conference and leads the discussion.
Case Conferences are held monthly. Residents present evidence-based reviews of interesting cases from the outpatient clinic or the inpatient service.
Board Review Conference occurs monthly and will cover the expansive range of medical topics expected for competency to be a family physician. Online board review questions may be utilized to generate discussion and learning.
General Lecture Series occur weekly. These lectures cover topics pertinent to the practice of family medicine ranging from obstetrics to geriatrics, consistent with the training requirements mandated by the ACGME. Each month is currently devoted to a specific theme.
Business of Medicine/Practice Management Series focuses on practical and relevant management skills such as understanding insurance, coding and billing, financial planning, contract negotiation and healthcare policy. Residents also attend practice business meetings, in which financial details of the family medicine center are discussed and physician productivity is reviewed.
Simulation is held at least one afternoon per month and covers topics in more detail utilizing a variety of formats. In addition to traditional clinical scenarios such as ACLS and BLS protocols and the unstable patient. Simulation sessions also focus on issues such as physician wellness, patient communication skills, and procedural skills.
Frequently Asked Questions about our Family Medicine Program