How to apply
ACGME#: 4401100002
NRMP#: 1587440C2
Welcome from our Program Director
We are excited about your interest in our General Surgery Residency Program. The HCA Florida West Hospital Graduate Medical Education (GME) program is a unique blend of academic excellence in a community setting. We are part of the HCA Healthcare/University of Central Florida GME consortium located in beautiful northwest Florida.
The cornerstone of any great academic surgical department is the strength of its general surgery training program and its faculty. We provide individual instruction that ensures a wide array of experience that allows residents to develop their expertise. There are no sub-specialty surgical fellows to dilute the operative experience.
Program overview
The General Surgery Residency Program at HCA Florida West is a five-year ACGME accredited residency program This program's goal is to develop and train competent, compassionate and safe surgeons who are taught using the state of art techniques. They are taught to follow proven surgical guidelines and exposed to working in an interdisciplinary team to provide care to all patients. We aim to develop leaders and role models not only for surgery but for the community. By fostering a culture of hard work, personal responsibility and respect for human life, this program will strive to create a learning environment that creates clinical excellence, leading research and a model for patient safety.
We aim to:
Produce safe surgeons
Provide a wide breadth of surgical cases and large operative volume to build clinical competence
Promote patient safety by incorporating process improvement, working with quality initiatives and interdisciplinary team
Provide surgical mentorship through committed faculty
Produce meaningful clinical research to advance the field of surgery
The success of our mentorship will be measured by our willingness to have ourselves or our loved ones cared for by our graduates. The success of the program will be measured by the career outcomes and the number of lives improved by our graduates.
Curriculum and rotation schedule
Our expertly crafted programs are designed to provide resident physicians with all the experiences and training necessary for professional success.
Our Program Director and staff
Our team is comprised of skilled experts with deep experience and knowledge from which residents and fellows can benefit.
Dr. Sanda Tan, FACS, FASCRS
Program Director
---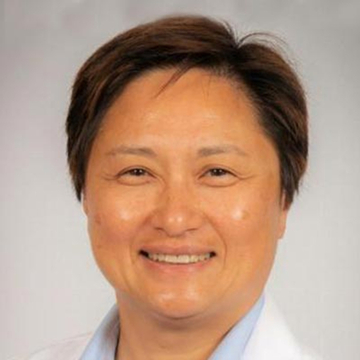 Program details
Grand rounds
Grand rounds with CME take place with internal and external speakers presenting relevant surgical topics.
Morbidity and mortality conferences
The residents present cases with unexpected or unusual outcomes with the intent to avoid future adverse outcomes, to encourage education and ultimately improve the quality of patient care.
Simulation training
The simulation center is located on campus easily accessible to residents.
Journal club and mock orals
Journal club will occur quarterly. Journal clubs are an established academic exercise in the residency training curriculum to obtain critical appraisal skills, update knowledge on current literature and enhance proficiency in clinical practice. Practice Mock oral examination will be provided in senior years of training in preparation for certifying examination.
Training and research
Our residency program has a state-of-the-art simulation lab, including an operating room and exam room and a stand-alone robotic trainer, to support surgical skills development. Our residency utilize formal education and simulation to supplement learning, as well as an environment for one-on-one education and training.
Curriculum and instruction regarding research theory and design are threaded into the core curriculum and research mentoring is provided. Residents will have the opportunity to design and implement scholarly projects with supportive faculty guiding and mentoring their pursuits. Data analysis and statistical support are provided at the UCF/HCA Healthcare level and a research fellow will be dedicated to HCA Florida West Hospital to facilitate these projects.
In addition, we provide education on quality improvement science and support for scholarly projects in quality improvement. Each resident will have the opportunity to participate in a quality improvement project with the intention of improving clinical outcomes and care.
Salary
The following salaries are for the fiscal year 2022-2023 and may differ from future years' salaries.
PGY-1: $56,028
PGY-2: $57,651
PGY-3: $59,460
PGY-4: $61,582
PGY-5: $64,140