Contact Us
For more information, please contact our program coordinator.
How to Apply
ACGME: 440112143
NRMP: 1384440C0
Welcome from our Program Director
The Palm Beach Regional Surgery Program is headquartered at HCA Florida JFK Hospital in Palm Beach County, Florida. The program includes 3 categorical residents per year. Applications to our program are exclusively through ERAS. Our 4 training sites include HCA Florida JFK Hospital, HCA Florida Palms West Hospital, West Palm Beach VA Medical Center and Jackson Memorial on Miami's main campus. Our program features high operating volumes, and our residents get into the OR very early in their training.
Mission Statement
The HCA Florida JFK Hospital Surgery program's mission is to develop the next generation of physicians and physician leaders.
As a part of HCA Healthcare, we are driven by a single mission: Above all else, we are committed to the care and improvement of human life.
This program is designed to offer residents a rewarding, educational environment where residents are provided individualized learning opportunities by faculty and staff who support and sustain one another throughout quality care delivery. Our faculty are committed to ensuring the residents' clinical experience and educational needs are fulfilled while expanding residents' perspectives to be inclusive of cultures, values and ideals.
Program Overview
Our residents receive extensive training in robotic general, vascular, bariatric, hepatobiliary, thoracic, and colorectal surgery. All graduating residents are robotic certified. A practice ABSITE exam and mock oral exams provide excellent preparation for these exams. A South Florida lifestyle is tough to beat. We are a few miles from sandy ocean beaches, top notch golf courses, every watersport imaginable, incredible fishing, and waterfront biking and running trails. We are dedicated to fostering an environment that promotes wellness.
Program details
Simulation training
JFK is in the process of creating an on-campus simulation center equipped with an endoscopic trainer, state of the art laparoscopic trainer and critical care skills mannequin.
Our program also has access to the Minimally Invasive Surgical Training & Education Center (M.I.S.T.E.) for simulation on Miami's medical campus. ACLS/ BLS training and team training using the latest high-fidelity simulation technology available at the neighboring campus of the Palm Beach State College.
Technology
All of our sites have electronic medical records and radiology PACS systems. Lecture rooms include video conferencing.
JFK Hospital, Palms West Hospital and The West Palm Beach VA all have robotics capacity. Thus, the resident is not "just an observer", but may switch controls back and forth with the attending surgeon. Residents will have early access to Davinci 1st assist training within their intern year. Intuitive medical training curriculum is integrated into the 5-year program. Residents graduate Da Vinci Robotic certified.
Each resident is provided with a cell phone and a personal laptop for the duration of their residency training.
Get to Know the Team
---
Heidi Bahna, MD FACS FASCRS
Program Director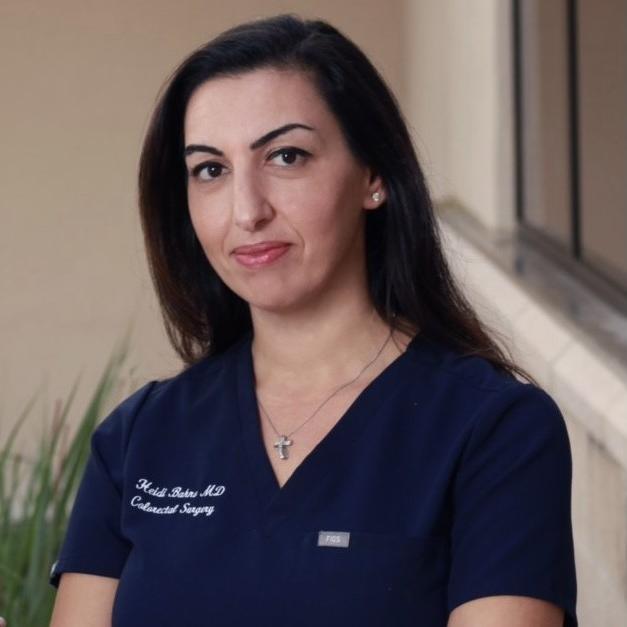 Curriculum and Rotation Schedule
Our expertly crafted programs are designed to provide resident physicians with all the experiences and training necessary for professional success.