How to Apply
ERAS: 4005100268
NRMP: 2129400C0
Welcome from our Program Director
Our Psychiatry Residency Program, established in 2018, offers a four-year ACGME-accredited program and has eight or more competitive PGY-1 positions available each year. Our residency program is housed at the Pavilion, a 68-bed psychiatric care unit located adjacent to our main medical center. As a resident, you will work in established, well-staffed inpatient units with a wide variety of patients and pathologies.
Program Overview
Our residents benefit from the wealth of graduate medical education experience brought to the program by our program director and his cadre of capable faculty who specialize in clinical medicine and education.
Our program is housed at the Pavilion, a 68-bed freestanding facility that is located adjacent to the hospital. Residents work in a fully renovated outpatient clinic.
Additional spaces within the building include program administration and faculty offices, along with resident sleep rooms, a lounge and a large classroom with state-of-the-art audiovisual support.
Residents will also work in our main hospital building and will have access to all HCA Healthcare facilities on the campus. Nearby Salem Veterans Affairs Medical Center (VAMC) is a tertiary referral center within the VA system for mental health and houses robust inpatient and outpatient settings with experienced faculty who are engaged in clinical training and research. Faculty at the VA are trained in a variety of specialty areas including geriatrics, addiction and other sub-specialties.
This facility serves as an integral part of the program and will provide additional experiences to ensure residents become exceptional and well-rounded psychiatrists. Additional educational opportunities exist through training at nearby Catawba Hospital, a state hospital serving adults and geriatric patients, and outreach services throughout southwest Virginia.
Multiple training sites will ensure a diversity of patients and pathology that will enable residents to be immersed in an array of experiences in the psychiatric field.
Psychiatry residents will embrace a rich community-based program supported by a dedicated and knowledgeable faculty. Their affiliations with significant area schools will translate to a plethora of experiences that will lead to a successful future.
Curriculum and rotation schedule
Our expertly crafted programs are designed to provide resident and fellow physicians with all the experiences and training necessary for professional success.
Our Program Director and staff
Our team is comprised of skilled experts with deep experience and knowledge from which residents and fellows can benefit.
Brian E. Wood, DO
Program Director
As one of our residents, you will embrace and be embraced by a rich community-based program supported by a dedicated and knowledgeable faculty. As an added bonus, you will thrive within a beautiful region that boasts a vibrant, diverse local culture, friendly atmosphere and award-winning public school systems. Get acquainted with our exciting program, our exceptional people and all that living and working in Virginia's Blue Ridge has to offer.
---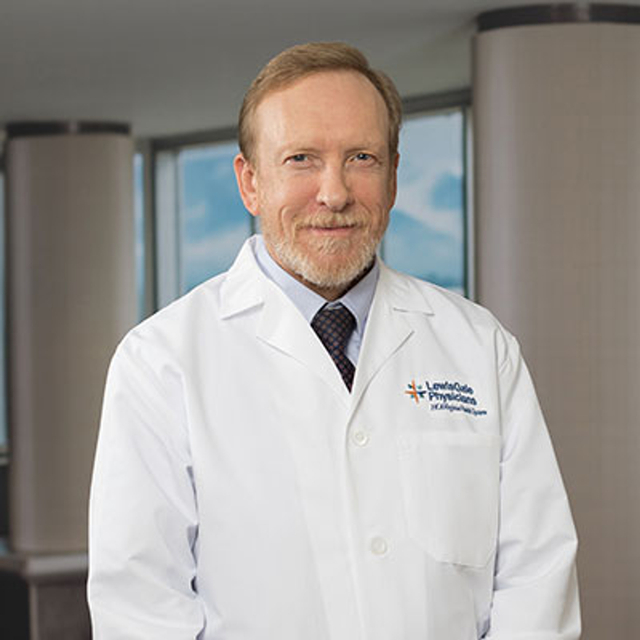 Program details
Salary
The following salaries are for the 2023-2024 academic year and may differ from future years' stipends.
PGY-1: $59,627
PGY-2: $61,395
PGY-3: $63,204
PGY-4: $65,388
---
Insurance
We offer insurance benefits that are comparable to those received by regular LewisGale Medical Center associates:
Medical, dental and vision benefits
Prescription drug benefits
Short-term and long-term disability, life insurance, flexible spending accounts (FSA), CorePlus voluntary benefits, HCA Healthcare 401(k) and stock purchase plan
There may be differences in the retirement plans and leave policy for residents.
---
Technology devices
The program will provide residents with HCA Healthcare-issued cell phones and laptops.
---
Medical training license
The cost for medical training licenses in the Commonwealth of Virginia will be paid by the program.
---
Leave
Residents will receive paid time off (PTO) and educational leave as follows:
20 work days PTO per academic year
5 days of educational leave per academic year
---
Memberships, subscriptions and exams
The program will cover required professional association membership fees, Question Bank subscriptions and in-service examination fees for psychiatry.
---
Medical conference fees
Each resident is provided funds for educational expenses such as required conferences and training, including:
Conference travel/registration monies during PGY-3 and PGY-4
Conference travel/registration for presenting original research (with approval by research director)
---
Life support training
The program covers expenses for basic life support (BLS) and advanced cardiac life support (ACLS) training.
---
Uniform
The program will provide lab coats.
---
Parking
Resident will have free parking.
---
Employee Assistance Program (EAP)
Our EAP is for residents and their families who experience personal problems that can affect their job performance. EAP is accessible 24/7 through Optum Wellbeing and Counseling Services. Some of the benefits of Optum are counseling services, legal services, financial services and substance abuse services.
---
Meals/snacks
Residents receive an annual meal stipend of $950 which is included with residents' salaries.
---
Resident call rooms
Residents will have access to sleep rooms and a resident lounge while on-call.
Mission statement
The LewisGale Medical Center Psychiatry Residency Program's mission is to develop the next generation of physicians and physician leaders.
As a part of HCA Healthcare, we are driven by a single mission: Above all else, we are committed to the care and improvement of human life.
This program is designed to offer residents a rewarding, educational environment where they are provided individualized learning opportunities by faculty and staff who support and sustain one another throughout quality care delivery. Our faculty is committed to ensuring the residents' clinical experience and educational needs are fulfilled while expanding their perspectives to be inclusive of cultures, values and ideals.