Welcome from our Program Director
Thank you for your interest in our Sunrise Health Graduate Medical Education (GME) Consortium Physical Medicine and Rehabilitation Residency program.
About our program
PM&R Application Process
PGY-2 Advanced Positions:
Applications will be accepted only through ERAS (Electronic Residency Application Service), through the AAMC (American Association of Medical Colleges), and participation in the NRMP (National Resident Match Program). We require the following documents from each applicant via ERAS:
ERAS Application
Personal Statement
Curriculum Vitae
Transcripts
Dean's letter (MSPE)
Three letters of recommendation
USMLE/COMLEX scores
Photograph
Medical Student Rotations
Sunrise Health Graduate Medical Education Consortium provides medical students with opportunities to work closely with residents and faculty.
Mission statement
---
The program's mission is to develop the next generation of physicians and physician leaders. As a part of HCA Healthcare, we are driven by a single mission: Above all else, we are committed to the care and improvement of human life.
This program is designed to offer residents a rewarding, educational environment where residents are provided individualized learning opportunities by faculty and staff who support and sustain one another throughout quality care delivery. Our faculty are committed to ensuring the residents' clinical experience and educational needs are fulfilled while expanding residents' perspectives to be inclusive of cultures, values, and ideals.
Get to Know the Team
Se Won Lee, MD,
Program Director
---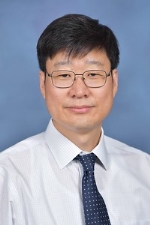 Program overview
Residents of the Sunrise Health Graduate Medical Education Consortium in Physical Medicine and Rehabilitation (PM&R) will rotate at MountainView Hospital, Sunrise Hospital and Medical Center, and Veteran Affairs (VA) Southern Nevada Healthcare system.
MountainView Hospital is a 425-bed acute-care facility, with 54 acute inpatient rehabilitation beds, located in the northwest area of Las Vegas. Sunrise Hospital is a 762-bed Level II Trauma center with 42 acute inpatient rehabilitation beds, located in downtown Las Vegas. Sunrise Children's Hospital recently opened an inpatient pediatric rehabilitation unit.
VA Southern Nevada Healthcare system has 96 beds with comprehensive outpatient rehabilitation department with state of the art orthotic and prosthetic laboratory, located in North Las Vegas. PM&R residents will work with dedicated PM&R attendings in both high-volume inpatient and outpatient PM&R services across the city of Las Vegas.
PM&R residents will rotate with the inpatient acute rehabilitation service, outpatient PM&R clinic, and electrodiagnosis clinic at MountainView Hospital. Sunrise Hospital and Medical Center rotations will include inpatient acute rehabilitation facility, inpatient pediatric rehabilitation, and inpatient PM&R consultation. A virtual tour of the MountainView Hospital Inpatient Rehabilitation Floor can be viewed below.
At the VA, PM&R residents will experience different aspects of subspecialized outpatient PM&R clinics including traumatic brain injury, spinal cord injury, multidisciplinary ALS clinic, electrodiagnosis, Botulism toxin clinic, motorized mobility clinic, general physiatry clinic, musculoskeletal clinic, multidisciplinary pain medicine, interventional pain management clinic, brace and orthotic clinic, and amputee clinic. During the VA rotation, PM&R residents will also rotate in a private muscular dystrophy clinic, providing access to a wide variety of pediatric and adult neuromuscular disorders.
HCA Healthcare is one of the nation's leading healthcare providers made up of locally managed facilities that include 185 hospitals and 119 freestanding surgery centers located in 21 U.S. states and in the United Kingdom. HCA Healthcare's GME has become the largest provider of resident training in the United States, with the stated goal of training superior, patient-centered physicians of the future.
The Sunrise Health GME Consortium currently includes ACGME accredited Internal Medicine, Surgery, Obstetrics and Gynecology, Family Medicine, Anesthesiology, Emergency Medicine and Transitional Year programs.
The Department of GME is located in the newly constructed educational building at MountainView Hospital, offering abundant learning labs, conference rooms, and a state-of-the-art simulation lab, a 200+ seat auditorium, and a resident lounge equipped with a kitchen. State-of-the-art teleconferencing is available in the classrooms as well as the main auditorium.
Our goal is to graduate well-rounded physiatrists through exceptional training and dedicated education, who will be pillars of the local community and the leaders of the PM&R community.
We look forward to hearing from you.
Conference schedule
The core curriculum has been designed to integrate basic science, clinical science, case studies and procedural skills into clinical practice. Core didactic lecture is a weekly 3 hours session on academic half-day and takes place at MountainView GME or VA campus.
Each didactic lecture is linked to the online educational materials (assigned by faculty) and hands-on practice in the Simulation Laboratory or PM&R clinic. After the didactic lecture, PM&R residents will review relevant board review materials and board style questionnaires from question bank to prepare PM&R board with the use of an audience response system. Individual performance on board questions will be provided as feedback to the residents to improve individual modules.
Journal Club is held weekly at MountainView and VA and biweekly at Sunrise covering a broad spectrum of PM&R topics including hands-on practice if relevant. The residents are actively involved in the presentation and discussion under the direction of the assigned faculty. Residents will have the opportunity to discuss the evidence-based approach and cost-effective analysis in the context of clinical PM&R practice.
Monthly Grand-Rounds is held at VA and includes outside speakers, core faculty, and PM&R residents (PGY-3 and PGY-4).
Block Schedule
PGY-2
4-5 months in MountainView Inpatient Rehabilitation
4 months in Sunrise Inpatient Rehabilitation with consult
2 months in VA Outpatient
1-2 month in MountainView Outpatient
PGY-3
2 months in MountainView Inpatient Rehabilitation and consult
1.5 months in Sunrise Inpatient Rehabilitation with consult
2.5 months in VA Outpatient
2 months in VA EMG
3 months in MountainView Outpatient
1 month in MountainView EMG
PGY-4
1 month in elective rotation
1 month in MountainView or geriatric/longterm acute care consult
3 months in MountainView Outpatient
3 months in VA Outpatient
2 months in VA EMG
1 month in MountainView EMG
1 month in pediatric rehabilitation
Wellness:
Resident well-being, work-life balance, team-building and anti-burnout strategies will be recurring topics throughout resident training.
Curriculum & Rotation Schedule
Our expertly crafted programs are designed to provide resident physicians with all the experiences and training necessary for professional success.