Contact us
For any additional questions, please contact Sarah Anderson, our Program Coordinator.
Welcome from our Program Director
Thank you for your interest in the Sunrise Health GME Consortium Emergency Medicine Residency Program. We are located in Las Vegas, Nevada, and our training facilities have an aggregate patient volume of 240,000 patient visits per year. Both are high acuity hospitals with admission rates in the 30% range and critical care admissions in the 9% range.
About our program
Application Process and Requirements:
Canadian and American allopathic and osteopathic students and physicians are encouraged to apply for emergency medicine residency through the Electronic Residency Application Service (ERAS). We require the following documents from each applicant:
Applicants must successfully complete USMLE step 1 and/or COMLEX level 1, as well as USMLE Step 2CK and/or Step 2 CS prior to being considered for an interview.
Three (3) letters of recommendation; suggested 2 or more SLOEs (Standardized Letter of Evaluation).
Personal Statement
Curriculum Vitae
Transcripts
Dean's letter (MSPE)
Photograph
All applicants must meet the requirements for a restricted residency-training license in the State of Nevada.
All applicants must be either US Citizens or be authorized to work in the US.
International medical graduates (IMG) may be considered if the applicant has graduated from an International Medical Education Directory (IMED) school. IMG applicants must have completed Steps 1, 2CK and 2CS and must also be certified by the Educational Commission for Foreign Medical Graduates (ECFMG).
After a review of applications, invitations for interviews will be sent to qualified applicants.
Mission statement
---
The MountainView Emergency Medicine program's mission is to develop the next generation of physicians and physician leaders. As a part of HCA Healthcare, we are driven by a single mission: Above all else, we are committed to the care and improvement of human life.
This program is designed to offer residents a rewarding, educational environment where residents are provided individualized learning opportunities by faculty and staff who support and sustain one another throughout quality care delivery. Our faculty are committed to ensuring the residents clinical experience and educational needs are fulfilled while expanding residents' perspectives to be inclusive of cultures, values and ideals.
Program overview
Residents of the Sunrise Health GME Consortium located at MountainView Hospital in Emergency Medicine will rotate between MountainView Hospital and Sunrise Hospital and Medical Center. MountainView Hospital is a 425-bed, full-service, acute-care facility, located in the northwest area of Las Vegas.
Sunrise Hospital is a 762-bed, Level II Trauma center located near the Las Vegas Strip. Emergency medicine residents will work at both high-volume, high-acuity facilities. The combined emergency department volume places MountainView Hospital Emergency Medicine Residency Program among the nation's busiest training programs.
The Sunrise Health Graduate Medical Education Consortium currently includes ACGME accredited residency programs in Anesthesiology, Family Medicine, Internal Medicine, Physical Medicine and Rehabilitation (PM&R), Psychiatry, Obstetrics and Gynecology, Radiology, Surgery, and Transitional Year, as well as fellowships in Anesthesiology Critical Care, Endocrinology and Gastroenterology.
The dedicated Graduate Medical Education floor offers a fully-stocked resident lounge, a state-of-the-art simulation lab, abundant learning labs, conference rooms, and a 200+ seat auditorium.
Get to Know the Team
David M. Hart, MD, Program Director
---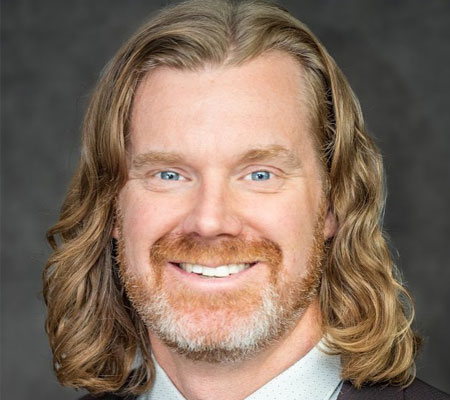 Conference schedule
The Modular Active Learning Curriculum for Emergency Medicine (MALCEM) consists of weekly literature and video modules that correspond to the emergency medicine core curriculum. One module (50-80 pages) is assigned per week. Residents are expected to come ready to discuss the topical material and will be evaluated on their individual performance.
Core faculty and residents participate in a transactional group learning discussion that is moderated by a trained faculty moderator with other core and clinical faculty providing clinical commentary.
After the modular discussion, a high-fidelity patient care simulation based upon the skills or critical decisions related to each module is presented. These integrated simulations are done in a group feedback environment with each resident or core faculty providing feedback to the simulation participants. In this way, the resident knowledge base is built from self-learning to group learning to experiential learning in a sequence designed to maximize retention and optimize utility.
A plenary lecture end the didactic sessions. Plenary lectures include institutional topics, outside speakers, resident presentations, resident-led board review, or faculty presentations. Individual residents provide at least one plenary lecture per year in the second or third year.
Journal clubs, mortality and morbidity, and grand rounds presentations round out the educational experience.
Follow us!
| Year | Salary | On-Call Meals | Total |
| --- | --- | --- | --- |
| PGY1 | $58,677 | $950 | $59,627 |
| PGY2 | $60,445 | $950 | $61,395 |
| PGY3 | $62,254 | $950 | $63,204 |
*Current salary rates
Curriculum Highlights & Rotation Schedule
The combination of two high-volume, high-acuity, full-service training sites provides a wide variety of challenging emergency medicine cases suitable for a well-rounded clinical experience. This combined with our innovative Modular Active Learning Curriculum for Emergency Medicine (MALCEM), provides a rigorous educational experience for our residents.
Our schedule consists of thirteen (13) four-week blocks. Resident rotations include:
Emergency Medicine
Pediatric Emergency Medicine
Ultrasound
Trauma
Medical ICU
Pediatric ICU
Anesthesiology
Cardiology
OB/GYN
Orthopedics