Welcome from our Program Director
Welcome to the HCA Houston Healthcare/University of Houston Kingwood Emergency Medicine Program. In joining us here at HCA Kingwood, you will be given a truly unique career opportunity beyond just developing your own skills as a physician, but helping to build and shape a program that will create a lasting impact on the Houston medical community for years to come.
Program Overview
Our program is poised to provide the best training to community-practice bound residents. Our busy hospital has the resources and support of a large academic center with the feel and function of a community hospital, giving our residents exposure to a large volume of sick patients with the most up to date tools and processes but with the flow and systems of a community hospital. Our hospital enjoys the richest diversity, serving both the diverse metropolitan Houston area as well as a large catchment area including much of rural, underserved southeast Texas.
Our program has a close knit, family feel and personal and individualized approach to education. We love our residents and pride ourselves in giving them robust clinical exposure while adapting our education to meet their individual learning needs. You won't meet a group of more enthusiastic and skilled faculty who have experience practicing in the community but also have a palpable passion for education.
Get to Know the Team
Shane Jenks, MD, MEd, FACEP
Program Director
---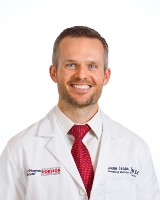 Curriculum & Rotation Schedule
Our expertly crafted programs are designed to provide resident physicians with all the experiences and training necessary for professional success.
Salary & Benefits Information
Salary
| Year | Salary | On-Call Meals | Total |
| --- | --- | --- | --- |
| PGY1 | $57,242 | $950 | $58,192 |
| PGY2 | $58,677 | $950 | $59,627 |
| PGY3 | $60,445 | $950 | $61,395 |
Benefits
Medical, dental, vision, life, disability insurance
Employee Assistance Program (EAP) Services
Retirement: 401k (employer matching offered)
Equipment: iPhone, laptop, white coats, scrubs
On-Call Meal Stipend: $950 per academic year
Orientation Stipend: $500
20 days PTO - Vacation/Sick Leave
6 weeks Paid Leave
Step 3 Reimbursement
FAQs