Welcome from our Program Director
Welcome and thank you for your interest in the Sunrise Health Graduate Medical Education Consortium program in Internal Medicine. We are an ACGME accredited categorical residency program, with 10 years continuing accreditation and 66 categorical residents. We are part of the Sunrise Health GME Consortium, a member of the HCA GME family.
About our program
Our program is Accreditation Council of Graduate Medical Education (ACGME) accredited, with 10 years continuing accreditation. We are a three-year categorical program and will recruit 22 PGY-1 categorical residents for the next academic year. We accept applications from osteopathic and allopathic students only through the ERAS system.
MountainView Hospital is our primary teaching site and sponsoring institute. It is a 425 bed, state-of-the art, Joint Commission Accredited, healthcare institution located in Las Vegas, Southern Nevada, since 1996. It is Joint Commission Certified as a Primary Stroke Center and has won numerous awards like Joint Commission Top Performer on Key Quality Measures, American Stroke Association's "Get with the Guidelines" Gold Performance Achievement Award, Bariatric Center of Excellence and Nurses Improving Care for Healthsystem Elders (NICHE) designation for commitment to elder care excellence. The hospital also features nationally recognized programs like a top cardiovascular and thoracic center and an accredited Chest Pain Center. Residents learn from full-time core internal medicine faculty on Internal Medicine rotation, as well as subspecialists during elective rotations.
The Leapfrog Group, an independent hospital watchdog organization, has twice named MountainView Hospital a Top Teaching Hospital, in 2018 and 2019, out of thousands in the country. The Leapfrog Top Hospital award is widely acknowledged as one of the most competitive honors American hospitals can receive.
MountainView Hospital has been awarded an 'A' rating five consecutive times from the Leapfrog Group, from 2018 to 2020, recognizing MountainView Hospital's achievements providing safer health care. This fifth consecutive Grade A (2020) recognizes that MountainView, as an acute-care teaching hospital, strives to maintain highest standards in patient safety and harm reduction strategies.
At our program, residents are actively educated on patient safety practices through Mortality and Morbidity seminars, frequent de-briefing sessions with hands-on teaching during rounds and Institute for Healthcare Improvement (IHI) open school didactic modules on patient safety.
Residents also experience inpatient medicine educational training at VA Southern Nevada Health Care System. This provides an opportunity to care for our Veterans and learn the VA EMR system, CPRS, used by every VA Health Care System in the US. We offer a robust Quality Improvement elective at VA and a well-rounded Public Health elective to our residents through our partnership with the Southern Nevada Health District, Volunteers in Medicine of Southern Nevada Clinic and other community healthcare clinics. Our residents acquire knowledge of epidemiology and its application in medicine. They gain various unique experiences during this elective, which also offers an opportunity to provide clinical care to the underserved in their community.
Simulation Center:
We offer a state of the art simulation lab to our residents.
Get to Know the Team
Kartika Shetty, MD, FACP, DO Program Director
---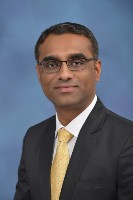 Program overview
Eligibility requirements
Applicants will be considered on an individual basis; however, the following requirements must be met:
U.S. citizens or individuals with permanent resident status (green card); we do not sponsor visas.
Applicants must successfully complete USMLE Step 1 or COMLEX Level 1 before an interview offer can be extended.
Step 2CK, Step 2CS or COMLEX Level 2CE and Level 2PE must be successfully completed prior to ranking.
Score threshold for USMLE is 220; for COMLEX is 500; applications will be reviewed for individual merit.
Prefer no more than 3 years since completion of medical school to anticipated start of residency
Any breaks in education or work history must be explained.
Applicants must be eligible for a residency training license in the State of Nevada.
Applicants not meeting the above criteria will be reviewed for individual merit.
Applicants must be processed through a mandatory background check.
After review of applications, invitations to interview will be sent to qualified applicants through ERAS along with scheduling instructions.

Medical Student Rotations
Sunrise Health Graduate Medical Education Consortium provides medical students with opportunities to work closely with residents and faculty.
Resources for residents:
Adjacent to the hospital is the GME facility that provides a dedicated space with classrooms, research space, resident's lounge and resident on-call rooms.
John-Hopkins curriculum
NEJM+
IHI modules
ACP membership
MKSAP subscription
Work Laptop
Work phone (I-Phone, cellular service provided by HCA GME)
Resident lounge with 24-hour access to food/drinks
Covered parking spaces
Research and scholarly activity
We offer a structured research curriculum in the form of dedicated systematic lecture series preparing residents for research. Dedicated morning lectures in collaboration with other residency programs) starts with topics on creative thinking, literature review, data gathering and continue with ways to write protocols and apply for IRB approval. Division Director of research, Dr. Ayutyanont Napatkamon, PHD, CPQH, teaches biomedical statistics to our residents; she specializes in this field and has extensive experience in implementing clinical trials. Various methods to disseminate research or quality improvement projects, including preparation of manuscripts and submission to journals for publication, are discussed as part of the curriculum.
All residents are required to participate in a minimum of one scholarly activity during the training. There are diverse opportunities and abundant support available to our residents for some of the following:
Case Studies
Original research projects
Literature review articles
Teaching Conferences
Grand Round
Mortality and Morbidity Conferences
Patient Safety
Journal Club
Quality Improvement projects
Hypothesis Driven Research projects
The Mountain View GME program supports residents in the presentation of their scholarly activities at Regional and National scientific conferences. Our residents have been the winners of ACP resident's research competition at the state level multiple times since inception of the program in 2016.
Quality Improvement
Patient safety, monitoring patient care and quality outcome measures are embedded in the mission of the department of internal medicine. Our program has an elaborate patient safety and quality improvement curriculum, and provide the following educational steps to educate our trainees.
Teaching the principle of Quality Improvement
Building dynamic thinking process and infrastructure for residents to participate in protocol building, design and implementation of the patient safety projects.
Participate in department and institution level projects to create innovative health monitoring system, quality and outcome metrics
Curriculum & Rotation Schedule
Our expertly crafted programs are designed to provide resident physicians with all the experiences and training necessary for professional success.
| Year | Salary | On-Call Meals | Total |
| --- | --- | --- | --- |
| PGY1 | $56,930 | $950 | $57,880 |
| PGY2 | $58,677 | $950 | $59,627 |
| PGY3 | $61,194 | $950 | $62,411 |
| PGY4 | $63,461 | $950 | $64,411 |
| PGY5 | $66,539 | $950 | $67,489 |
| PGY6 | $69,202 | $950 | $70,152 |
| PGY7 | $76,190 | $950 | $77,140 |